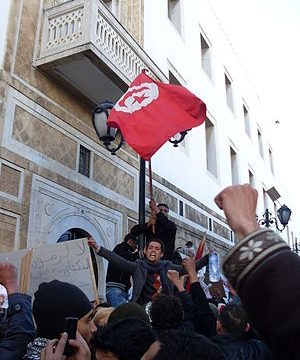 INDIA GREENS PARTY
Press Statement
IGP congratulates Tunisian people on 10th anniversary of Jasmine Revolution
Unchir, Pauri-Garhwal, Uttarakhand, 15 January 2021: The India Greens Party (IGP) has congratulated the people of Tunisia on the 10th anniversary of their revolution.
In a press statement issued here, the IGP President Suresh Nautiyal said the Tunisian Revolution, also known as the Jasmine Revolution, was not only an intensive 28-day campaign of civil resistance; but also an example of inclusive democracy, one where the rights of women and minorities and freedom of speech and association were constitutionally respected.
That Tunisia received the Nobel Peace Prize for dialogue and peace is a testimony to the true character of the Tunisian people, pointed out the IGP leader.
Mr Nautiyal said a series of street demonstrations in Tunisia had led to the ousting of long-time president Zine El Abidine Ben Ali on 14 January 2011; and eventually led to a thorough democratisation of the country and to free and democratic elections.
The IGP leader said the whole world knows that the demonstrations a decade ago in Tunisia were caused by high corruption, unemployment, food scarcity, and a lack of political freedom such as freedom of speech.
The protests, sparked by the self-immolation of Mohamed Bouazizi on 17 December 2010, had resulted in scores of deaths and injuries, most of which were the result of action by police and security forces. Eventually, the protests led to the ousting of Ben Ali on 14 January 2011, when he officially resigned after fleeing to Saudi Arabia, ending his 23 years in power.
The protests in Tunisia inspired similar actions throughout the Arab world, in a chain reaction which became known as the Arab Spring movement.
"The India Greens Party remains committed to standing by the Tunisian people to create jobs, and strengthen democratic institutions and rule of law in their country. The IGP also looks forward to preserving the gains made over last decade," said the IGP President.
-Issued by the IGP Spokesperson (North) Rafat Jamal.
……………………………………………………………………………………………
(India Greens Party is registered with the Election Commission of India under Section 29A of the Representation of the People Act, 1951. Registration Number: 56/476/2018-19/PPS-I, effective from 18/07/2019.)
Party HQ: 104, Vardhman Complex, 1st Floor, LSC, Savita Vihar, Delhi-110092.
Email: indiagreensparty@gmail.com Website: https://indiagreensparty.org/