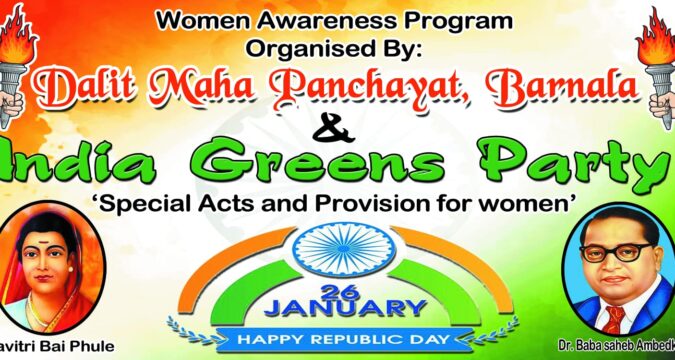 INDIA GREENS PARTY
Press Release
Kaleke Village, Distt-Barnala, Punjab, 26 January 2023: The Punjab unit of the India Greens Party (iGP) today organised a programme here in association with the Dalit Maha Panchayat Barnala to make the women aware of their rights in the Constitution and the legal system of the country.
According to a press release issued here, the day-long programme was moderated by the iGP General Secretary Harpreet Kaur and Advocate Rajesh Kumar. The introductory speeches were made by Ms Harpreet Kaur and Sukhwinder Singh of the Dalit Maha Panchayat Barnala.
Advocate Veena Kumari of the Human Rights Law Network (HRLN) Chandigarh talked in detail about the Special Acts and Provisions for women in our Constitution and legal system. She said time has come for the women to not only protect their rights but also fight for justice and equality in all spheres of life.
Advocate Rajesh Kumar of the HRLN Chandigarh talked on the challenges that were there in the implementation of the provisions made in the Constitution. He said the women should not get discouraged and must overcome the challenges if they wanted to live in dignity and peace.
Barnala District Nodal Officer Ramandeep Kaur and Ombudsman Hardev Singh talked in detail about the provisions made for the women in the NREGA. They also talked on how to overcome the challenges. They said enough safeguards were there in the NREGA for the women, and they must know how to get them implemented.
The Dalit Maha Panchayat Punjab Chairperson Kiranjeet Singh Gahri said the ideology of Dr BR Ambedkar, the main architect of the Constitution, can enable the marginalised people to live in dignity.
The programme concluded with a pledge to take the women's issues to a logical conclusion and work for the unity of women and equality in the society.
– Statement issued by iGP General Secretary Harpreet Kaur.
………………………………………………………………..
(India Greens Party is registered with the Election Commission of India under Section 29A of the Representation of the People Act, 1951. Registration Number: 56/476/2018-19/PPS-I, effective from 18/07/2019.)
National Head Office: GreenDham AnandiChait, IndraBalbhadra Parisar, Unchir-Dunktok, SH-31, PO-Ghurdauri, Distt-Pauri Garhwal, Uttarakhand, INDIA. PIN-246194.
Email: contact@indiagreensparty.org Website: https://indiagreensparty.org