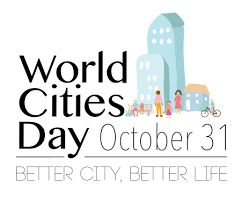 INDIA GREENS PARTY
Press Statement
Unchir, Pauri-Garhwal, Uttarakhand, 31 October 2020: The India Greens Party (IGP) today said we need to put less weight of population on our cities to keep them sustainable.
In a press statement on the occasion of the UN World Cities Day today, the IGP President Suresh Nautiyal pointed out that it was regrettable that inequalities in cities have grown over the years and the world's largest cities are often the most unequal.
"The Indian cities like Delhi, Mumbai, Kolkata and Chennai are a few examples of inequalities," Mr Nautiyal said.
However, he hoped the World Cities Day will promote the international community's interest in global urbanisation, push forward cooperation among countries in meeting opportunities and addressing challenges of urbanisation, and contributing to sustainable urban development.
The United Nations General Assembly has designated the 31st of October as World Cities Day.
Mr Nautiyal said the impact of COVID-19 has re-shaped urban life around the world. It is good that the local communities have played a key role in contributing to keeping people safe and maintaining some economic activities, adding that the recognition of communities' value must be maintained beyond the virus outbreak.
He said the activities of the communities can no longer be taken for granted. Therefore, the policy makers and urban managers need to engage communities systematically and strategically in urban planning, implementation and monitoring to co-create the cities of the future.
-Press Statement issued by the IGP Spokesperson (North) Rafat Jamal.
…………………………………………………………………………
(India Greens Party is registered with the Election Commission of India under Section 29A of the Representation of the People Act, 1951. Registration Number: 56/476/2018-19/PPS-I, effective from 18/07/2019.)
Party HQ: 104, Vardhman Complex, 1st Floor, LSC, Savita Vihar, Delhi-110092.
Email: indiagreensparty@gmail.com
Website: https://indiagreensparty.org/
With Green wishes,
Suresh Nautiyal
President, IGP — India Greens Party. Website: www.indiagreensparty.org
Phones: +91-8860072030 and +91-9868182289.