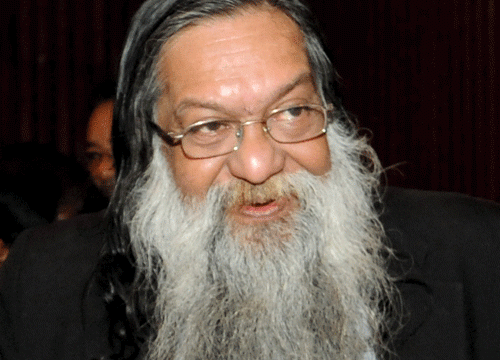 INDIA GREENS PARTY
Press Statement
Unchir-Dunktok, Pauri Garhwal, Uttarakhand, 31 August 2022: The India Greens Party (iGP) today condoled the untimely demise of Abhijit Sen, a distinguished development economist, teacher and policymaker.
Prof Abhijit Sen, 72, passed away on 29 August.
The iGP, in a statement issued here at the national head office of the party, termed Abhijit Sen as a champion of the excluded and exploited. The party acknowledged that Sen was genial, humble and sweet-natured, yet absolutely clear and deeply passionate in his commitment to a more just society.
The iGP Co-Presidents, Rajendra Minj and Nazeema AK, said Prof Sen was keenly aware of the emerging ecological challenges facing the planet, and was against the mechanical mining of the soil. The former member of the national plan panel considered soil as a public good and called for collective but location-appropriate action by farmers, scientists, civil society and the state to secure soils and the future of Indian civilisation.
Sen joined the Jawaharlal Nehru University in 1985, where he remained a much-revered teacher, right until his retirement in 2015. He always taught his students the power of contrarian positions, of understanding arguments on the other side, so that their own thinking would grow deeper.
The iGP Chief Spokesperson Prabhath Prabhakaran referred to Sen's days at the Planning Commission, where he played a very important role in policy initiatives. He added that Sen was deeply committed to a Universal PDS and right to work.
The iGP Founder Suresh Nautiyal said Prof Sen's impeccable integrity and academic credentials meant that he was respected across the political spectrum and depending on him for advice.
-Issued by Prabhath Prabhakaran,
Chief Spokesperson, India Greens Party.
………………………………………………………………..
(India Greens Party is registered with the Election Commission of India under Section 29A of the Representation of the People Act, 1951. Registration Number: 56/476/2018-19/PPS-I, effective from 18/07/2019.)
National Head Office: GreenDham AnandiChait, IndraBalbhadra Parisar, Unchir-Dunktok, SH-31, PO-Ghurdauri, Distt-Pauri Garhwal, Uttarakhand, INDIA. PIN-246194.
Email: contact@indiagreensparty.org Website: https://indiagreensparty.org