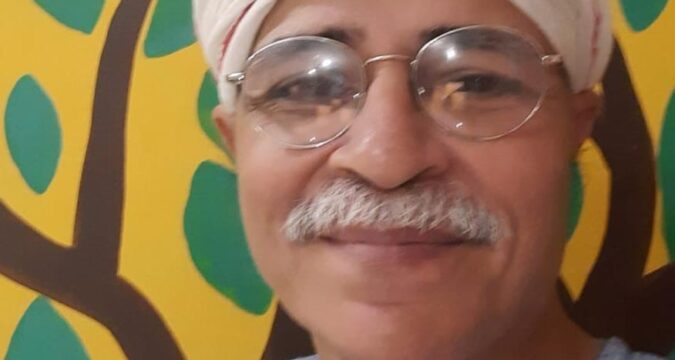 INDIA GREENS PARTY
Press Statement
Unchir-Dunktok, Pauri Garhwal, Uttarakhand, 16 August 2022: The India Greens Party (iGP) today condoled the untimely demise of Vimal Bhai, well-known social and environmental activist, and one of the key leaders of the National Alliance of Peoples Movements (NAPM).
Vimal Bhai, 60, succumbed to multiple organ failure on 15 August 2022 at the AIIMS, New Delhi.
In a statement issued here at the national head office (NHO), the iGP recognised the fact that Vimal Bhai touched thousands of lives in a deeply personal and political way, and worked relentlessly to oppose mindless damming of rivers and pollution, and supported people's rights to be involved in the 'developmental processes', especially in the Tehri-Garhwal region of Uttarakhand, as part of Matu Jan Sangathan.
A true Gandhian and relentless fighter for justice for the oppressed and downtrodden, he also represented the true rainbow of resistance in his work of struggle and solidarity. From being an active organiser in the anti-dam and ecological movements to supporting basti-dwellers of Khorigaon, to helping anti-mining struggles in Rajasthan, being at the forefront of campaigns against hate and communal violence to standing up for trans and queer rights, to supporting release of political prisoners and asserting the right to self-determination of Kashmiris, he was always with people and Nature.
He also supported the Uttarakhand Movement for a separate state in the 1990s.
Vimal Bhai was one of the national Coordinators and Convenors of the NAPM for many years. He participated with Pride in many LGBTIQA+ Pride Marches and was a key bridge between queer and other movements.
His last letter on 25 July 2022 was to the new President Ms Droupadi Murmu, in which he called upon her to take substantive steps to end repression on Adivasis, uphold their rights in V-Schedule areas and protect their unique cultural, linguistic, religious lifestyle.
The iGP also recognises that he remained down-to-earth and non-consumerist throughout his life.
Besides, he was extremely resourceful as a movement activist and diligently used all democratic tools to hold authorities and institutions accountable to people's rights and laws of the land.
In this painful moment, the India Greens Party (iGP) conveys its deepest condolences to his family members, movement co-travellers and friends across India and beyond.
-Issued by Prabhath Prabhakaran, Chief Spokesperson, India Greens Party.
………………………………………………………………..
(India Greens Party is registered with the Election Commission of India under Section 29A of the Representation of the People Act, 1951. Registration Number: 56/476/2018-19/PPS-I, effective from 18/07/2019.)
National Head Office: GreenDham AnandiChait, IndraBalbhadra Parisar, Unchir-Dunktok, SH-31, PO-Ghurdauri, Distt-Pauri Garhwal, Uttarakhand, INDIA. PIN-246194.
Email: contact@indiagreensparty.org Website: https://indiagreensparty.org