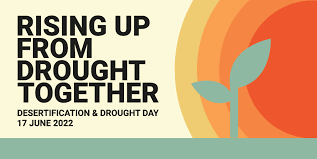 INDIA GREENS PARTY

Press Statement
Unchir-Dunktok, Pauri Garhwal, Uttarakhand, 17 June 2022: The India Greens Party (iGP) today said there is an urgent need to accelerate the restoration of one billion hectares of degraded land by 2030 by improving data gathering and monitoring to track progress against the achievement of land restoration commitments and establishing a new partnership model for large-scale integrated landscape investment programmes.
In a press statement issued here at the national head office (NHO) of the party, on the occasion of the Combat Desertification and Drought Day today, the iGP Co-Presidents Nazeema AK and Rajendra Minj reminded that the 15th Conference of Parties (COP15) of the United Nations Convention to Combat Desertification (UNCCD), held in Abidjan, Côte d'Ivoire in May this year rightly pledged to boost drought resilience and invest in land restoration for future prosperity.
The Co-Presidents said there is a need to implement the United Nations Convention to Combat Desertification in those countries experiencing serious drought and/or desertification, particularly in Africa (UNCCD) in letter and spirit to combat desertification and mitigate the effects of drought through national and international action programmes that incorporate long-term strategies.
Party's Founder, Patron and Mentor Suresh Nautiyal said there is an urgent need to turn degraded land into healthy land, which in turn will help biodiversity to recover.
"At the same time forced migration and displacement driven by desertification and land degradation have to be addressed by creating social and economic opportunities that increase rural resilience and livelihood stability, and by mobilising resources," Mr Nautiyal pointed out, adding that biodiversity can be recovered and climate change slowed down if degraded land is turned into healthy land.
The World Day to Combat Desertification and Drought is observed every year to promote public awareness of international efforts to combat desertification. The day is a unique moment to remind everyone that land degradation neutrality is achievable through problem-solving, strong community involvement and co-operation at all levels.
Nearly three quarters of the Earth's ice-free land has been altered by humans to meet an ever-growing demand for food, raw materials, highways and homes. Avoiding, slowing and reversing the loss of productive land and natural ecosystems now is both urgent and important for a swift recovery from the pandemic like Covid-19 and for guaranteeing the long-term survival of people and the planet.
Desertification is the degradation of land in arid, semi-arid and dry sub-humid areas. It is caused primarily by human activities and climatic variations. Desertification does not refer to the expansion of existing deserts. It occurs because dryland ecosystems, which cover over one third of the world's land area, are extremely vulnerable to overexploitation and inappropriate land use. Poverty, political instability, deforestation, overgrazing and bad irrigation practices can all undermine the productivity of the land.
The matter requires even more attention now. When the land degrades and stops being productive, natural spaces deteriorate and transform. Thus, greenhouse gas emissions increase and biodiversity decreases.
–Issued from the NHO of the India Greens Party.
………………………………………………………………..
(India Greens Party is registered with the Election Commission of India under Section 29A of the Representation of the People Act, 1951. Registration Number: 56/476/2018-19/PPS-I, effective from 18/07/2019.)
National Head Office: GreenDham AnandiChait, IndraBalbhadra Parisar, Unchir-Dunktok, SH-31, PO-Ghurdauri, Distt-Pauri Garhwal, Uttarakhand, INDIA. PIN-246194.
Email: contact@indiagreensparty.org Website: https://indiagreensparty.org