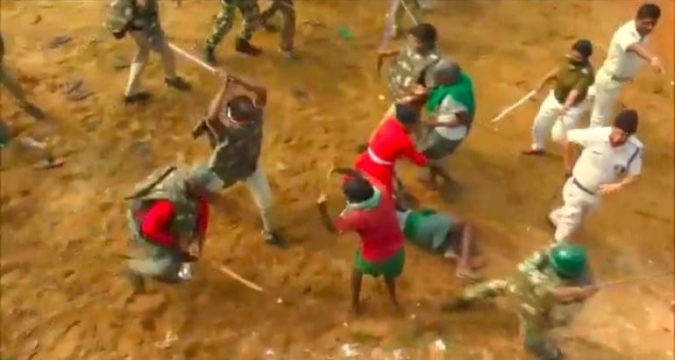 INDIA GREENS PARTY
Towards Making the Country Ecologically and Politically Clean and Green!
Press Statement
Unchir-Dunktok, Pauri Garhwal, Uttarakhand, 16 January 2022: The India Greens Party (iGP) today condemned the recent police violence on residents of Dhinkia and nearby villages in Jagatsinghpur district, Odisha.
Dhinkia and nearby villages near the Paradeep port is the area where the people fought a decade-long battle and forced the POSCO to withdraw its plans for setting up an Iron and Steel Plant. This time around the local villagers have been struggling to save their life and livelihoods from the proposed steel plant project of Jindal Steel Works, a project for which no statutory clearances have been obtained.
In a press statement issued by the party's Chief Spokesperson Suresh Nautiyal here at the national head office (NHO), the iGP Co-Presidents Dr Apeksha Wasudeo Khobragade and Rajendra Minz expressed solidarity with the struggle of the residents of Dhinkia and nearby villages and demanded from the Odisha Government that the arrested activists be released unconditionally. "The Odisha Police personnel should be withdrawn from Dhinkia and nearby villages," they added.
The Odisha police has been camping outside these villages for over a month and harassing residents entering and exiting the villages.
On 14 January, Odisha Police personnel started destroying betel vines around the Dhinkia village. This resulted in a procession of residents of Dhinkia and other villages confronting the police and physically protecting the vines. The Odisha Police responded with a brutal lathicharge injuring about 30 people including women and children. They also arrested activists and leaders of the Jindal Pratirodh Sangram Samiti.
–Issued by the iGP Chief Spokesperson Suresh Nautiyal.
——————————————-
(India Greens Party is registered with the Election Commission of India under Section 29A of the Representation of the People Act, 1951. Registration Number: 56/476/2018-19/PPS-I, effective from 18/07/2019.)
Registered Office: 104, Vardhman Complex, 1st Floor, LSC, Savita Vihar, Delhi-110092.
National Head Office: Greendham Anandi-Chait, Indra-Balbhadra Parisar, Unchir-Dunktok, Devprayag-Bubakhal State Highway-31, Patty-Idwalsyun, PO-Ghurdauri, Distt-Pauri Garhwal, Uttarakhand, INDIA. PIN-246194.
Email: contact@indiagreensparty.org Website:https://indiagreensparty.org