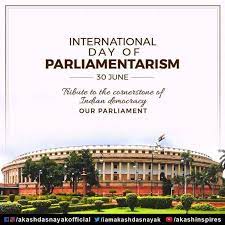 INDIA GREENS PARTY
Press Statement
Unchir-Dunktok, Pauri Garhwal, Uttarakhand, 30 June 2021: The India Greens Party (iGP) today called upon the young generation to make correct political choices as they are destined to live with the political choices made today.
In a press statement on the occasion of the International Day of Parliamentarism today, the iGP President Suresh Nautiyal said it is a matter of concern that democratisation of the world has not happened despite so much efforts at various levels.
The International Day of Parliamentarism is celebrated every year on 30 June, the date in 1889 on which the International Parliamentary Union (IPU) was founded. The Day was established in 2018 through a United Nations General Assembly Resolution.
"The time is ripe that the democracies move toward direct and participatory democracy to make the world parliaments more direct and participatory," said the Green leader.
"Women's representation in the parliaments urgently needs to be increased. Women's representation the world over remains around 25 percent only and youth are also under represented in proportion to their population," Mr Nautiyal pointed out, adding that their perspectives, ideas, talents and energy are vital to addressing many of the biggest challenges facing the international community.
Mr Nautiyal said the situation in India is even worse with only 12 percent women in the national parliament.
The iGP President said these efforts are critical for parliamentary democracy, when people are losing trust in political institutions and democracy itself is facing challenges from populist and nationalist movements.
"If democracy is to thrive, then parliaments, as the cornerstone of functioning democracies, need to be strong, transparent, accountable, and participatory," he added.
Mr Nautiyal said strong parliaments represent the voice of the people, pass laws, allocate funds to implement laws and policies, and hold governments to account. "They work to make sure that policies benefit all people, especially the most vulnerable," he added.
–Issued by Deepak Dabral, iGP Office Secretary.
……………………………………………………
(India Greens Party is registered with the Election Commission of India under Section 29A of the Representation of the People Act, 1951. Registration Number: 56/476/2018-19/PPS-I, effective from 18/07/2019.)
Registered Office: 104, Vardhman Complex, 1st Floor, LSC, Savita Vihar, Delhi-110092.
National Head Office: GreenDhamAnandiChait, IndraBalbhadraParisar, Unchir-Dunktok, PO-Ghurdauri, Patty-Idwalsyun, Distt-Pauri Garhwal, Uttarakhand, INDIA. PIN-246194.Email: indiagreensparty@gmail.com Website: https://indiagreensparty.org