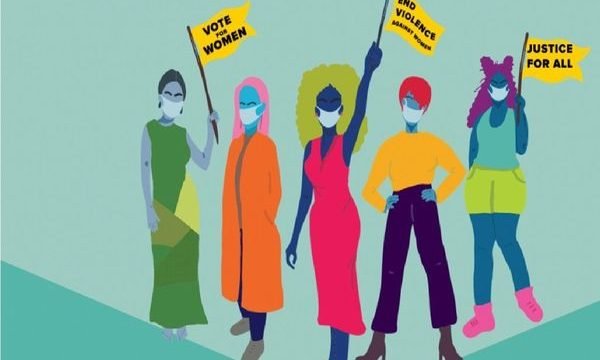 FREEDOM FROM POLITICAL DISCRIMINATION NEEDED

• By Suresh Nautiyal
Gender, a social construct of sex, defines the identity of being male, female, or other. Gender-based discrimination remains prevalent despite so many binding national and international measures.
It has been there since time immemorial due to hegemonies, prominently patriarchal. Men always enjoyed higher levels of access to social and economic outcomes, and have been over represented in politics.
As a result, women were and remain on the margins of social, political and economic life. The condition of others like LGBTIQA+ (Lesbian, Gay, Bisexual, Trans, Intersex, Queer, Asexual and other people) is even worse.
But on the occasion of the International Women's Day on 8 March, we are talking about women only. In every society, we need to take certain measures for gender equity.
Gender equity
Today, the societies around the world need to be equitable. Simple equality will not do because gender equality only means that every person, regardless of gender, should have equal rights and access to opportunities. It is the state of being equal — treating every individual in the same manner, irrespective of their differences. It does not consider needs or requirements of people.
On the other hand, gender equity recognises the differences between genders and acknowledges their different needs, aspirations and constraints. It is the state of being fair and impartial treating each individual according to their needs. Being Greens, our objective has to be to progress to gender equity from gender equality. Women will get their fair share in a society only if gender equity exists in that society.
Elimination of discrimination
Elimination of discrimination against women in politics and public life is essential for gender equity. Adoption of quotas is the answer where women have no space in every sphere of life including social, cultural, economic and political. Women's equal participation in the formulation of government policies and the implementation thereof will be an important step. A provision of free education for all girls and women can help in this.

Legal and legislative measures
It is very clear that adoption of appropriate legal and legislative frameworks and other measures prohibiting all discrimination against women is the answer. Also, there is a need to provide a comprehensive framework to women for challenging the factors responsible for sustained discrimination against them. Establishment of a new socio-political and economic order based on equity will be a frog-leap.
Gender quotas
Every five years, the Indian political parties awake from their deep slumber and are suddenly reminded of matters of otherwise lesser importance. Regrettably, reservation for women, who constitute half of our country's population, falls into this category. The Women's Reservation Bill or the Constitution (108th Amendment) Bill, 2008, remains a pending bill in Parliament which proposes to amend the Constitution of India to reserve 33 percent of all seats in the Lok Sabha, and in all state legislative assemblies for women.

The point is that a legally mandated quota in the country's Constitution to reserve a percentage or a number of parliamentary and assembly seats for women is earnestly needed. Besides, the constitution should mandate that political parties nominate at least 50 percent of women as party candidates for elections.

Wrong perceptions
As women have the right to participate in electoral politics, their families should not decide if they can participate in electoral politics. It is also a wrong thinking that women should be given tickets against men only when they are sure to win the seat most.
There is also a wrong perception that women have no political education skills, therefore, their fathers or husbands have to take up the proxy positions. The practice of "Pradhan Pati" in the country's gram sabhas or village councils is due to this thinking only.

The fact is that women are capable even of leading men and are not raising women's issues only. Women should also not be restricted to fight only on reserve seats. Some people say women should not ignore their domestic responsibilities. My question is: Do not men have these responsibilities?

Equity in politics
Political parties voluntarily need to commit to nominate a certain percentage of women as party candidates for elections. The India Greens Party (IGP) is an example where up to 50 percent of seats are reserved for women in all its bodies and at every level be it the political affairs committee, national executive or national council. The party has also made a provision to nominate 50 percent women in the elections at all levels. The IGP example gives a clear picture of how women's role can be furthered in their own parties.
Violence and safety
Decline in moral values is the main cause of violence against women. It is an area of grave concern. We need to strengthen legislation to protect women from sexual and gender-based violence and ensure implementation of laws on violence and harassment. The point is that the women themselves will take care of their safety if they are 50 percent in political life. Therefore, elimination of discrimination against women is also key to minimising violence against women.

Women's leadership
Women leaders have handled the Covid-19 pandemic in a better way. The countries led by women witnessed fewer deaths compared to the ones with similar characteristics led by men. Female-led countries have been held up as examples of how to manage a pandemic.

Women-led countries have significantly better Covid-19 outcomes, research appears to show. The relative successes of leaders such as Germany's Angela Merkel, New Zealand's Jacinda Ardern, Denmark's Mette Frederiksen, Taiwan's Tsai Ing-wen and Finland's Sanna Marin have attracted many headlines. Also, an analysis of 194 countries, published by the Centre for Economic Policy Research and the World Economic Forum, suggests the difference is real and may be explained by the proactive and coordinated policy responses adopted by female leaders.

Conclusion
Therefore, freedom from political, economic, social, and cultural discrimination is need of the hour. It is about human dignity. It is about equal access to, and ability to participate in, social, cultural, economic, political and ecological spheres. It is about equal representation and participation in decision-making processes in all areas of political, social, cultural, intellectual and economic life. It is about gender mainstreaming in all policies and binding legislation. It is about change in the traditional role of men and women in society and the family to achieve gender equity. And, positive changes are bound to take place if women are involved in the decision-making processes.
***