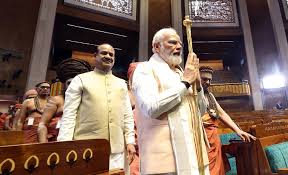 INDIA GREENS PARTY
Press Statement on Inauguration of new Parliament of India
Issued at iGP NHO at Greendham Anandi-Chait, Unchir-Dunktok, Pauri Garhwal, Uttarakhand on 28 May 2023
The India Greens Party (iGP) questions the relevance of chanting of the Vedic mantras and performance of the Hindu religious rituals and performances during the inauguration ceremonies of the new Parliament of India at New Delhi, or ceremonies in other places on behalf of this event.
According to the Constitution of India, there is no official state religion in India. The Constitution considers all religions as equals.
As a result, tax-payers' money must not/cannot be used to support any religion (Article 27).
What we saw on 28 May 2023, was a sheer violation of the Indian Constitution. The India Greens Party believes that such Hindu religious performances in the new Parliament have only pushed the country backward.
The party also states that the ceremonies in the new Parliament should have been led by the President of India, not by the Prime Minister.
–Issued by the iGP Chief Spokesperson Suresh Nautiyal.
#NewIndianParlimanent #NewParliament #IndiaNewParliament #HinduReligiousCeremonies
————————————————
(India Greens Party is registered with the Election Commission of India under Section 29A of the Representation of the People Act, 1951. Registration Number: 56/476/2018-19/PPS-I, effective from 18/07/2019.)
National Head Office: GreenDham AnandiChait, IndraBalbhadra Parisar, Unchir-Dunktok, SH-31, PO-Ghurdauri, Distt-Pauri Garhwal, Uttarakhand, INDIA. PIN-246194.
Email: contact@indiagreensparty.org Website: https://indiagreensparty.org