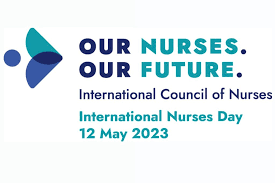 INDIA GREENS PARTY
Press Statement
Unchir-Dunktok, Pauri Garhwal, Uttarakhand, 12 May 2023: The India Greens Party (iGP) celebrates the International Nurses Day today pointing out nurses' significant role in the global health challenges, which is vital in improving the global health for all.
The humanity celebrates the nurses on the International Nurses Day on 12 May every year on the birth anniversary of the legendary nurse, Florence Nightingale, who is regarded as the founder of modern nursing. It is also celebrated to recognise their contribution to healthcare services.
In a statement issued today at the national head office (NHO) here, the party said the COVID-19 pandemic showed us all how nurses around the world worked day and night, risking their lives, as frontline medical workers.
"Nurses are essential caretakers for a prosperous society. The celebration of International Nurses Day provides an opportunity to thank and appreciate the hard work of nurses, who often work long hours in challenging and stressful conditions to ensure the well-being of their patients," the party pointed out, adding that the nurses, in fact, have brought in a new paradigm, and they are our future!
In return, nurses need to be protected, respected and valued. More investment in nursing is the need of the hour. Such an investment will also improve the healthcare facilities. But regrettably, they are not granted equal pay for equal despite so much talk and directions.
The India Greens Party stated that it is important to move nurses from invisible to invaluable in the eyes of the policy makers, the public, and all those who make decisions affecting the delivery and financing of healthcare.
Issued by iGP Chief Spokesperson Suresh Nautiyal.
#InternationalNursesDay
(India Greens Party is registered with the Election Commission of India under Section 29A of the Representation of the People Act, 1951. Registration Number: 56/476/2018-19/PPS-I, effective from 18/07/2019.)
National Head Office: GreenDham AnandiChait, IndraBalbhadra Parisar, Unchir-Dunktok, PO-Ghurdauri, Patty-Idwalsyun, Distt-Pauri Garhwal, Uttarakhand, INDIA. PIN-246194.
Email: contact@indiagreensparty.org Website: https://indiagreensparty.org