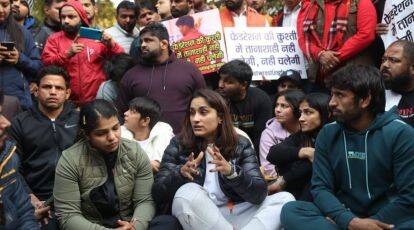 INDIA GREENS PARTY
Press Statement
Unchir-Dunktok, Pauri Garhwal, Uttarakhand, 9 May 2023: The India Greens Party today expressed full solidarity with the Indian women wrestlers who have been agitating for action against the Wrestling Federation of India (WFI) President Brij Bhushan Sharan Singh on grounds of repeated instances of sexual harassment and abuse of power.
Mr Brij Bhushan Sharan Singh is a Bharatiya Janata Party MP from Kaiserganj, Uttar Pradesh.
In a statement issued at its national head office (NHO) here, the party said the Modi government at Centre has failed to act on the serious charges against Mr Singh, and the committee constituted by the Sports Ministry and IOA seems more like an eye-wash.
The matter has been raised repeatedly, over the last two years by the women wrestling champions. It is very sad that the internationally known wrestlers have to fight for justice.
The wrestlers have been protesting again at Jantar Mantar in New Delhi since 23 April 2023.
In view of this, the India Greens Party is supportive of the demand that Mr Singh be expelled as WFI President and an independent inquiry be conducted into the matter. The party also demands arrest of those responsible for sexual harassment.
The party also denounces the manner in which the Delhi Police manhandled the protestors in Delhi.
The iGP is of the view that democratisation of all sports federations and bodies, replacing corrupt, abusive persons in positions of power is need of the hour.
Issued by iGP Chief Spokesperson Suresh Nautiyal.
(India Greens Party is registered with the Election Commission of India under Section 29A of the Representation of the People Act, 1951. Registration Number: 56/476/2018-19/PPS-I, effective from 18/07/2019.)
National Head Office: GreenDham AnandiChait, IndraBalbhadra Parisar, Unchir-Dunktok, PO-Ghurdauri, Patty-Idwalsyun, Distt-Pauri Garhwal, Uttarakhand, INDIA. PIN-246194.
Email: contact@indiagreensparty.org Website: https://indiagreensparty.org