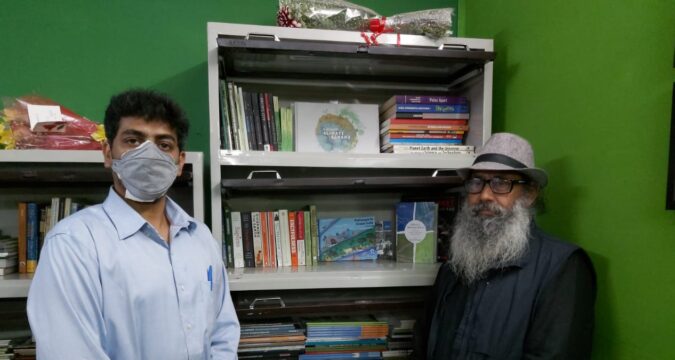 INDIA GREENS PARTY
PRESS RELEASE
Unchir-Dunktok, Pauri-Garhwal, Uttarakhand, 15 March 2022: The India Greens Party (iGP) today congratulated the Youth for Climate India for opening the Climate Justice Library in Delhi, the very first of its kind in the national capital.
The Youth for Climate India opened the Climate Justice Library (CJL) at South Extension Part-2 in South Delhi on Tuesday, 15 March with the aim to make climate literacy available to its community members and the general public.
The organisation of the climate-conscious and conscientious young people, the community of which goes beyond 8,000 individuals throughout the country, strongly believes in improving people's access to such intellectual resources which will enhance their understanding of the environmental issues.
The iGP in a press release issued here at its national head office (NHO) said the library will be able to spread awareness about the environmental issues, and prove to be a great resource centre on climate discourses.
The iGP Founder-Patron-Mentor Suresh Nautiyal, Vice-President and International Co-Secretary Michael Rajchandra, and Secretary Harleen Kaur Gill participated in the Climate Justice Library inauguration ceremony on behalf of the party.
"The India Greens Party hopes that the CJL will also engage the public at large in serious climate conversations, and make climate justice an environmental movement," said Mr Nautiyal.
–Issued by the iGP Chief Spokesperson Prabhath Prabhakaran.
————————————————
(India Greens Party is registered with the Election Commission of India under Section 29A of the Representation of the People Act, 1951. Registration Number: 56/476/2018-19/PPS-I, effective from 18/07/2019.)
Registered Office: 104, Vardhman Complex, 1st Floor, LSC, Savita Vihar, Delhi-110092.
National Head Office: Greendham Anandi-Chait, Indra-Balbhadra Parisar, Unchir-Dunktok, Devprayag-Bubakhal State Highway-31, Patty-Idwalsyun, PO-Ghurdauri, Distt-Pauri Garhwal, Uttarakhand, INDIA. PIN-246194.
Email: contact@indiagreensparty.org Website:https://indiagreensparty.org