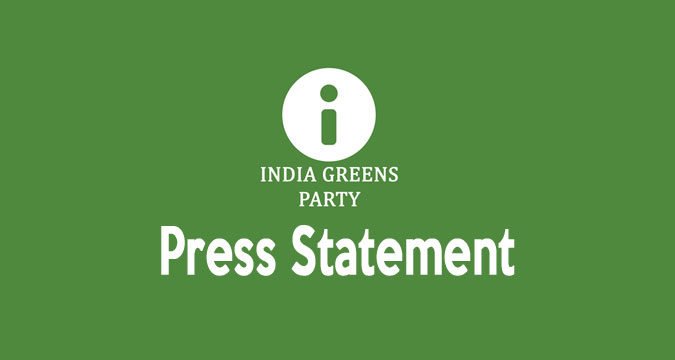 INDIA GREENS PARTY
STATEMENT
Unchir-Dunktok, Pauri-Garhwal, Uttarakhand, 11 March 2022: The India Greens Party (iGP) today said the recent assembly election results except Punjab are disturbing and do not augur well for the future of Indian democracy.
The iGP in a press statement issued here at its national head office (NHO) pointed out the BJP's decisive victories in UP and Uttarakhand, though with reduced majority, and their success in edging over the opposition in Manipur and Goa, display the disconcerting trend of communal, divisive, and populist politics triumphing against real and serious issues facing the country. The green party lamented the electorate still seems to lack enough awareness about the social challenge posed by climate change, and the environmentally unsustainable economic and industrial policies of the BJP.
The sole silver lining is the landslide majority of the AAP in Punjab, which shows it is not impossible to defeat the politics of hatred and authoritarianism. However, the iGP expressed concern about the continuing weakening of a pan India secular party like the Congress leaving a vacuum in India's political space, which regional parties and parties like AAP whose influence is confined to certain pockets in the country, might not be able to fill adequately.
The India Greens Party appealed to the secular parties in India to introspect and correct their course to prevent the relentless advent of religious fundamentalist and fascist political forces. The iGP said the current political scenario will strengthen the green party's resolve to pioneer a path of green and clean politics at the pan India level, based on the six core principles of ecological wisdom, social justice, participatory democracy, non-violence, and sustainability.
–Issued by the iGP Chief Spokesperson Prabhath Prabhakaran.
————————————————
(India Greens Party is registered with the Election Commission of India under Section 29A of the Representation of the People Act, 1951. Registration Number: 56/476/2018-19/PPS-I, effective from 18/07/2019.)
Registered Office: 104, Vardhman Complex, 1st Floor, LSC, Savita Vihar, Delhi-110092.
National Head Office: Greendham Anandi-Chait, Indra-Balbhadra Parisar, Unchir-Dunktok, Devprayag-Bubakhal State Highway-31, Patty-Idwalsyun, PO-Ghurdauri, Distt-Pauri Garhwal, Uttarakhand, INDIA. PIN-246194.
Email: contact@indiagreensparty.org Website:https://indiagreensparty.org