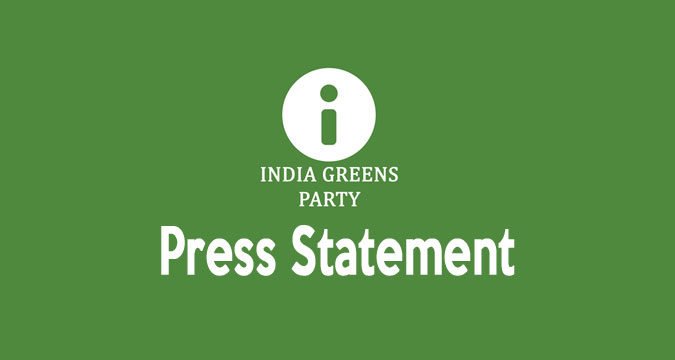 INDIA GREENS PARTY
Press Statement
Unchir-Dunktok, Pauri Garhwal, Uttarakhand, 27 January 2022: The India Greens Party (iGP) has decided to extend its support to the Uttarakhand Parivartan Party (UKPP) and their candidates in the State Assembly elections next month.
According to a press release issued by party's Chief Spokesperson Suresh Nautiyal here at the national head office (NHO), party's Co-President Dr (Ms) Apeksha Wasudeo Khobragade has sent an email to the UKPP President, Mr PC Tewari, informing him about the iGP's decision to support their party and their party candidates in the State Assembly elections next month.
Voting for the 70-member State Assembly will take place on 14 February 2022.
The Chief Spokesperson said the iGP Co-President Ms Khobragade has also written in her email that iGP expected the UKPP to formulate their election manifesto based on the six Green Principles of the Global Greens Charter, and issues of the Himalayan state.
"Besides, Dr Apeksha Wasudeo Khobragade has expected that the UKPP would take cognisance of the burning issues of the Uttarakhand state including the points related to land rights, melting glaciers and climate change, global warming, forest fires, landslides, migration, rural health and education, hill economy, poverty alleviation schemes, etc in their election manifesto," elaborated Mr Nautiyal.
The iGP Chief Spokesperson said Dr Khobragade has also assured the UKPP of its support to their campaigns and programmes in the state before or after the election process.
"Being a Green party, it is the duty of the India Greens Party to support all the endeavours, programmes, and campaigns of another Green party. Hope, the UKPP reciprocates in the same Green spirit," added Dr Apeksha Wasudeo Khobragade in her email to the UKPP President, Mr Tewari.
–Issued by the iGP Chief Spokesperson Suresh Nautiyal.
————————————————————————————-
(India Greens Party is registered with the Election Commission of India under Section 29A of the Representation of the People Act, 1951. Registration Number: 56/476/2018-19/PPS-I, effective from 18/07/2019.)
Registered Office: 104, Vardhman Complex, 1st Floor, LSC, Savita Vihar, Delhi-110092.
National Head Office: Greendham Anandi-Chait, Indra-Balbhadra Parisar, Unchir-Dunktok, Devprayag-Bubakhal State Highway-31, Patty-Idwalsyun, PO-Ghurdauri, Distt-Pauri Garhwal, Uttarakhand, INDIA. PIN-246194.
Email: contact@indiagreensparty.org Website:https://indiagreensparty.org