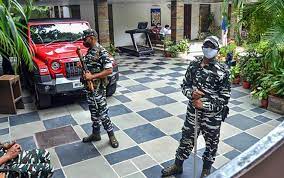 INDIA GREENS PARTY
Press Statement
Unchir-Dunktok, Pauri Garhwal, Uttarakhand, 14 September 2021: The India Greens Party (iGP) today condemned the brazen attempts of the governments to intimidate the media through repeated raids on their premises.
"Where the Indian democracy will go if the very forth pillar of democracy is shaken in a brazen way," asked the iGP President Suresh Nautiyal in a press statement issued here at the party's national head office today.
He said it is sad that the Delhi office of Newslaundry was raided this year by the Income Tax Department, and simultaneously a raid was conducted on the Delhi office of Newsclick. The government officials even went to the house of the Newsclick owner/editor Prabir Purkayastha, seized his phone and other material and brought him to the Newsclick office for further enquiries. Not only this, the Newsclick was raided by the Enforcement Directorate. The Income Tax officials also interrogated Mr Purkayastha and the editor.
Besides, the select ransacking and torching of media offices by politically motivated mobs were seen recently in Tripura.
It is also sad that the Income Tax officials raided the countrywide offices of the leading Hindi daily Dainik Bhaskar after its critical coverage of pandemic deaths in Uttar Pradesh.
Mr Nautiyal said the iGP condemns all such attempts to browbeat media establishments and individual journalists.
–Issued by Deepak Dabral, iGP Office Secretary
.……………………………………………………
(India Greens Party is registered with the Election Commission of India under Section 29A of the Representation of the People Act, 1951. Registration Number: 56/476/2018-19/PPS-I, effective from 18/07/2019.)
Registered Office: 104, Vardhman Complex, 1st Floor, LSC, Savita Vihar, Delhi-110092.
National Head Office: GreenDhamAnandiChait, IndraBalbhadraParisar, Unchir-Dunktok, PO-Ghurdauri, Patty-Idwalsyun, Distt-Pauri Garhwal, Uttarakhand, INDIA. PIN-246194.
Email: indiagreensparty@gmail.com Website: https://indiagreensparty.org