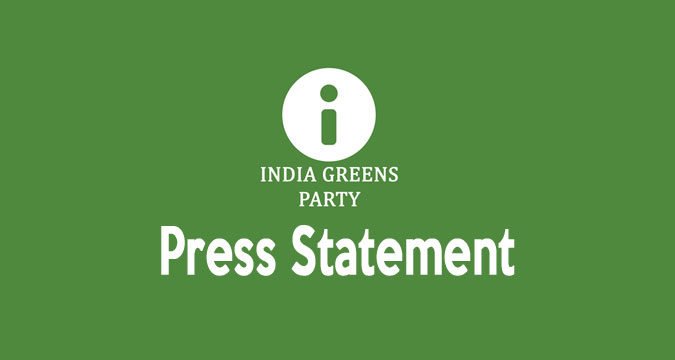 INDIA GREENS PARTY
Press Statement
Unchir-Dunktok, Pauri-Garhwal, Uttarakhand, 5 March 2022: The India Greens Party (iGP) today demanded immediate withdrawal of the Russian troops from sovereign Ukraine, and end of the war.
The iGP in a press statement issued here at its national head office (NHO) once again condemned, in the strongest terms, the Russian Federation's invasion of Ukraine and President Putin's decision to put his nuclear forces on alert.
The iGP renews its appeal to all global, continental, regional, and local institutions, including in our own region, to coordinate closely and take nonviolent, strategic, and sustained collaborative diplomatic dialogues and détente that act as deterrence and weaken Russia's ability to finance the war against Ukraine.
The party is not in favour of general sanctions that ultimately will impact the common people. The sanctions, therefore, must target the oligarchs, military complexes, and those starting or continuing the war. More so, we understand that many of the people in Russia are not in favour of war and are sympathetic to the plight of the Ukrainian people. In view of this, we support the Russian citizens opposing war and those who have been jailed for their opposition. We call for their immediate release and the right for peaceful protest inside the Russian Federation.
The iGP supports humanitarian and medical assistance to Ukraine, and calls on the European governments to immediately prepare a response apparatus to receive the Ukrainian refugees in their countries, including the opening of the Schengen borders for Ukrainian refugees seeking asylum.
At the same time, we expect that NATO does not show extraordinary enthusiasm to intervene, and instead, takes a path that leads to détente.
–Issued by the iGP Chief Spokesperson Prabhath Prabhakaran.
——————————————————————————————————–
(India Greens Party is registered with the Election Commission of India under Section 29A of the Representation of the People Act, 1951. Registration Number: 56/476/2018-19/PPS-I, effective from 18/07/2019.)
Registered Office: 104, Vardhman Complex, 1st Floor, LSC, Savita Vihar, Delhi-110092.
National Head Office: Greendham Anandi-Chait, Indra-Balbhadra Parisar, Unchir-Dunktok, Devprayag-Bubakhal State Highway-31, Patty-Idwalsyun, PO-Ghurdauri, Distt-Pauri Garhwal, Uttarakhand, INDIA. PIN-246194.
Email: contact@indiagreensparty.org Website:https://indiagreensparty.org