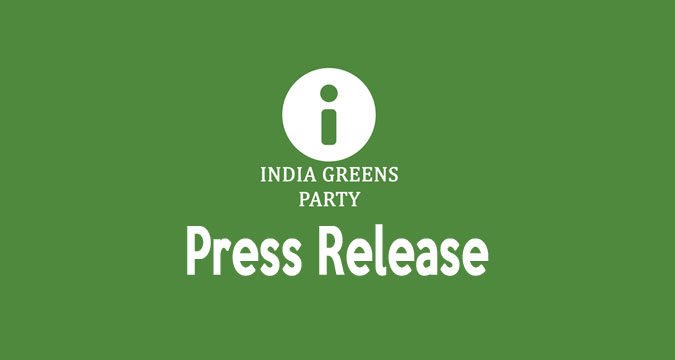 INDIA GREENS PARTY
Press Release
iGP Brihan Mumbai to hold State Convention on 25 April, to elect State Executive Committee
Mumbai, 23 April 2021: The Brihan (Greater) Mumbai Ad-hoc Committee of the India Greens Party (iGP) will hold its State Convention on next Sunday.
In a press release issued here in Mumbai, the Brihan Mumbai State Ad-hoc Committee said the convention will be held online on 25 April 2021 from 2PM till 5:15PM on the Zoom application.
The convention will be divided in several sessions. In the plenary session, the iGP President Suresh Nautiyal will inaugurate the convention and address the participants. The iGP Secretary-General Rehana Siddiqui will also address the participants.
Experts from various fields will also make their short presentations on ecological and social issues in the plenary session. Ms Anita Nautiyal (Gender Equity Project Coordinator, Asia Pacific Greens Federation – APGF), Mr Stalin Dayanand (Director, Vanashakti), and Mr Harish Sadani (Founder, Men Against Violence & Abuse – MAVA) will be the main speakers.
In the business session, the Brihan Mumbai members of the party will elect the State Executive Committee for a period of two years.
In the political session, resolutions on the various issues of Brihan Mumbai will be passed and adopted. Other resolutions on important ecological and environmental issues, social justice, human rights and democracy will also be passed and adopted.
Issued by Archana Patel & Mukesh Jadhav on behalf of the Brihan Mumbai Ad-hoc Committee
………………………………………………………………..
(India Greens Party is registered with the Election Commission of India under Section 29A of the Representation of the People Act, 1951. Registration Number: 56/476/2018-19/PPS-I, effective from 18/07/2019.)
Registered Office: 104, Vardhman Complex, 1st Floor, LSC, Savita Vihar, Delhi-110092.
National Head Office: GreenDham AnandiChait, IndraBalbhadra Parisar, Unchir-Dunktok, PO-Ghurdauri, Patty-Idwalsyun, Distt-Pauri Garhwal, Uttarakhand, INDIA. PIN-246194.
Email: indiagreensparty@gmail.com Website: https://indiagreensparty.org