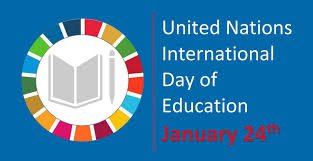 INDIA GREENS PARTY
Press Statement
Int'l Day of Education: IGP says education is a human right
Unchir-Dunktok, Pauri-Garhwal, Uttarakhand, 24 January 2021: On the occasion of the International Day of Education today, the India Greens Party (IGP) said education is a human right and it must reach to all citizens of the world.
In a press statement issued here today, the IGP President Suresh Nautiyal regretted that education did not have universal coverage despite tall claims of the world governments.
He reminded that the right to education was enshrined in article 26 of the Universal Declaration of Human Rights. The declaration calls for free and compulsory elementary education and the Convention on the Rights of the Child, adopted in 1989, goes further to stipulate that countries shall make higher education accessible to all.
He said education is a key to sustainable development. It also works as a ladder out of poverty and a path to a promising future. But about 265 million children and adolescents around the world do not have the opportunity to enter or complete school; 617 million children and adolescents cannot read and do basic math; less than 40% of girls in sub-Saharan Africa complete lower secondary school and some four million children and youth refugees are out of school. Their right to education is being violated and it is unacceptable.
The IGP leader pointed out that without inclusive and equitable quality education and lifelong opportunities for all, countries will not succeed in achieving gender equality and breaking the cycle of poverty that is leaving millions of children, youth and adults behind.
-Issued by the IGP Spokesperson (North) Rafat Jamal.
……………………………………………………………………………………………
(India Greens Party is registered with the Election Commission of India under Section 29A of the Representation of the People Act, 1951. Registration Number: 56/476/2018-19/PPS-I, effective from 18/07/2019.)
Party HQ: 104, Vardhman Complex, 1st Floor, LSC, Savita Vihar, Delhi-110092.
Email: indiagreensparty@gmail.com Website: https://indiagreensparty.org/