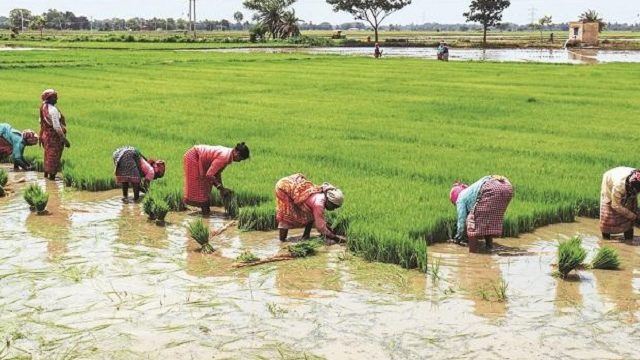 INDIA GREENS PARTY
Press Statement
Kisan Divas: IGP asks Modi Government to listen to farmers
Unchir, Pauri-Garhwal, Uttarakhand, 23 December 2020: Congratulating the farmers and other citizens of the country on the occasion of Rashtriya Kisan Divas or National Farmers' Day today, the India Greens Party (IGP) said citizens' support to the farmers is need of the hour to pressurise the central government to withdraw the agriculture legislations that have forced the farmers to take to the streets.
In a press statement issued here, the IGP President Suresh Nautiyal said the Farmers' Day is observed on December 23 across the country to praise the farmers as they are the spine of the country; but on the contrary and regrettably they are being branded as extremists, Maoists, Khalistanis, etc.
"The Indian Greens Party expresses its deep disappointment over the central government's adamant attitude towards the agitating farmers," Mr Nautiyal said.
"Instead of being sympathetic towards the farmers, the government does not want to listen to them and take note of their point of view because they do not subscribe to an ideology dear to the leaders of the government," said the Green leader.
Mr Nautiyal demanded that the government must listen to the farmers and accept their demands which are quite reasonable.
"The fact is that several hundred thousand farmers in the country have committed suicides in the recent past because they could not pay back the loans. The government does not want to know how and why the middlemen (dalals and arhatiyas) push down the prices of the agricultural produce, often below the costs of production. The farmers even do not manage to get the prices of inputs such as seeds, fertilisers, pesticides, etc – not to talk of the cost of their labour, time and profit," Mr Nautiyal said.
"This is why a mandatory MSP (minimum support price) system has to be in place, and the government must buy the agricultural produce," demanded the IGP President, adding that the situation was even worse in the case of small, mountain and indigenous farmers.
"The point is that the situation is not going to change till the outside forces like the middlemen and corporations continue to control, restrict and even reduce the living space of the farmers. Marginalisation of the farmers will mean poverty, starvation and famine," pointed out the IGP President.
-Issued by the IGP Spokesperson (North) Rafat Jamal.
……………………………………………………………………………………………
(India Greens Party is registered with the Election Commission of India under Section 29A of the Representation of the People Act, 1951. Registration Number: 56/476/2018-19/PPS-I, effective from 18/07/2019.)
Party HQ: 104, Vardhman Complex, 1st Floor, LSC, Savita Vihar, Delhi-110092.
Email: indiagreensparty@gmail.com Website: https://indiagreensparty.org/