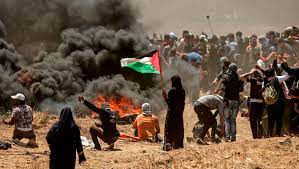 INDIA GREENS PARTY
Issued at iGP NHO at Greendham Anandi-Chait, Unchir-Dunktok, Pauri Garhwal, Uttarakhand on 31 October 2023.
Press Statement
The India Greens Party (iGP) today condemned Israel's military attack on Gaza, and the denial of food, water, electricity, and communications to the captive 2.3 million Palestinian civilians.
The party calls on all the world governments to join the peace forces in condemning Israel's inhumane attack and killing of several thousand Palestinians, of which more than half are women and children.
The India Greens Party also condemns the actions of Hamas on October 7 and the taking of hostages, but at the same time it recognises that this conflict did not start on October 7 this year, but in May 1948 with the Nakba and the creation of the Palestine refugee problem and Israeli settlement and occupation. The subsequent actions by the apartheid state of Israel have been likened to genocide by many experts and human rights organisations, amounting to grave war crimes and collective punishment, which can never be justified.
We call on the governments and the human rights organisations to take urgent steps to work for an immediate ceasefire and for unconditional humanitarian aid and negotiations which allow Palestinians freedom, self-determination, and security into the future.
The India Greens Party is of the opinion that peace can never be achieved by violence and injustice.
–Issued by the iGP Chief Spokesperson Suresh Nautiyal.
————————————————
(India Greens Party is registered with the Election Commission of India under Section 29A of the Representation of the People Act, 1951. Registration Number: 56/476/2018-19/PPS-I, effective from 18/07/2019.)
National Head Office: GreenDham AnandiChait, IndraBalbhadra Parisar, Unchir-Dunktok, SH-31, PO-Ghurdauri, Distt-Pauri Garhwal, Uttarakhand, INDIA. PIN-246194.
Email: contact@indiagreensparty.org Website: https://indiagreensparty.org