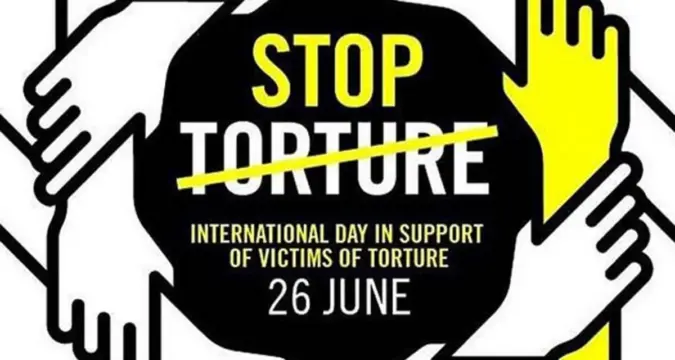 INDIA GREENS PARTY
Press Statement on the occasion of the UN Int'l Day in Support of Victims of Torture
Issued at iGP NHO at Greendham Anandi-Chait, Unchir-Dunktok, Pauri Garhwal, Uttarakhand on 26 June 2023.
The India Greens Party (iGP) today said torture seeks to annihilate the victim's personality and denies the inherent dignity of the human being because it is one of the vilest acts perpetrated by human beings on their fellow human beings.
In a press statement issued here on the occasion of the United Nations International Day in Support of Victims of Torture today, the iGP said the non-governmental organisations (NGOs) can play vital role in the fight against torture.
According to the Convention against Torture and other Cruel, Inhuman or Degrading Treatment or Punishment, torture means any act by which severe pain or suffering, whether physical or mental, is intentionally inflicted on a person for such purposes as obtaining from him/her or a third person information or a confession, punishing him for an act he or a third person has committed or is suspected of having committed, or intimidating or coercing him or a third person, or for any reason based on discrimination of any kind, when such pain or suffering is inflicted by or at the instigation of or with the consent or acquiescence of a public official or other person acting in an official capacity. It does not include pain or suffering arising only from, inherent in or incidental to lawful sanctions.
Concerns about protecting national security and borders are increasingly used to allow torture and other forms of cruel, degrading and inhuman treatment. Its pervasive consequences often go beyond the isolated act on an individual; and can be transmitted through generations and lead to cycles of violence.
The UN International Day in Support of Victims of Torture on 26 June marks the moment in 1987 when the UN Convention Against Torture and Other Cruel, Inhuman or Degrading Treatment or Punishment, one of the key instruments in fighting torture, came into effect. Today, the Convention has been ratified by more than 160 countries.
The Day is an opportunity to call on all stakeholders including UN Member States, civil society and individuals everywhere to unite in support of the hundreds of thousands of people around the world who have been victims of torture and those who are still tortured today.
–Issued by the iGP Chief Spokesperson Suresh Nautiyal.
————————————————
(India Greens Party is registered with the Election Commission of India under Section 29A of the Representation of the People Act, 1951. Registration Number: 56/476/2018-19/PPS-I, effective from 18/07/2019.)
National Head Office: GreenDham AnandiChait, IndraBalbhadra Parisar, Unchir-Dunktok, SH-31, PO-Ghurdauri, Distt-Pauri Garhwal, Uttarakhand, INDIA. PIN-246194.
Email: contact@indiagreensparty.org Website: https://indiagreensparty.org