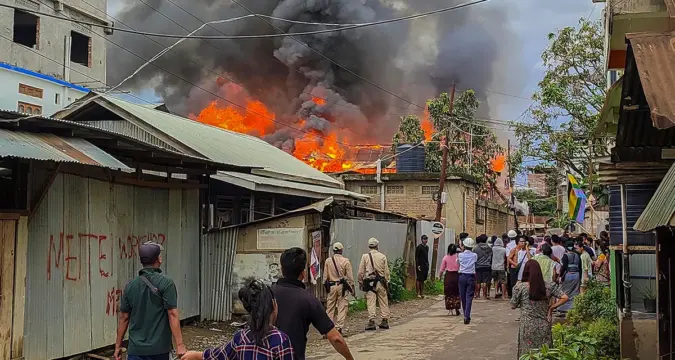 INDIA GREENS PARTY
Press Statement on the Manipur Situation
Issued at iGP NHO at Greendham Anandi-Chait, Unchir-Dunktok, Pauri Garhwal, Uttarakhand on 19 June 2023
The India Greens Party (iGP) condemns the continuing violence in the northeastern state of Manipur; and, urges the Prime Minister Narendra Modi to break his silence and put an immediate halt to it.
The India Greens Party notes with pain that the ongoing civil war like situation in the state has disrupted life and caused large-scale damages to properties, besides unleashing terror among the people.
The iGP calls upon all the parties concerned for an immediate ceasefire in the state.
It is sad that the ethnic violence continues in the state between the Meitei community and the tribal Kuki and Zo communities since early May 2023. It is known that the immediate trigger to this violence was a Manipur High Court order advising the state government to grant the Meitei community (members of which now have either OBC or in some cases SC status) the status of Scheduled Tribe. Thereby, the Meitei community would have access to land that is currently reserved for tribal communities.
It is sad that both the central and state governments are weaponising the constitutional provisions to destroy concepts of democratic dialogue, federalism and safeguarding of human rights.
The media reports suggest that over 50,000 people are lodged in more than 300 refugee camps and thousands of men, women and children have been displaced.
The iGP is of the clear view that Manipur state is burning due to the divisive politics. The state government has pretended to be an ally to all the communities for its political gains, but has only widened the gulf of historical tensions between them without any effort to facilitate a dialogue towards resolution of the current crisis.
The party believes that there is a great need for independent, non-partisan civil society members to visit the survivors and the bereaved; and verify reports of killings and rapes.
A court-monitored tribunal must be formed to establish facts, and prepare the ground for justice and healing of the gaping wound that separates communities of Manipur to mitigate the divisiveness and hatred being engineered. A fast-track court be set up for all cases of sexual violence by state and non-state actors.
Provision of relief by the government to those forced to flee and guarantee their safe return to their villages; rebuild their homes and lives. This process of return, rehabilitation and compensation should be overseen by a panel of retired judges who know the region closely.
–Issued by the iGP Chief Spokesperson Suresh Nautiyal.
————————————————
(India Greens Party is registered with the Election Commission of India under Section 29A of the Representation of the People Act, 1951. Registration Number: 56/476/2018-19/PPS-I, effective from 18/07/2019.)
National Head Office: GreenDham AnandiChait, IndraBalbhadra Parisar, Unchir-Dunktok, SH-31, PO-Ghurdauri, Distt-Pauri Garhwal, Uttarakhand, INDIA. PIN-246194.
Email: contact@indiagreensparty.org Website: https://indiagreensparty.org