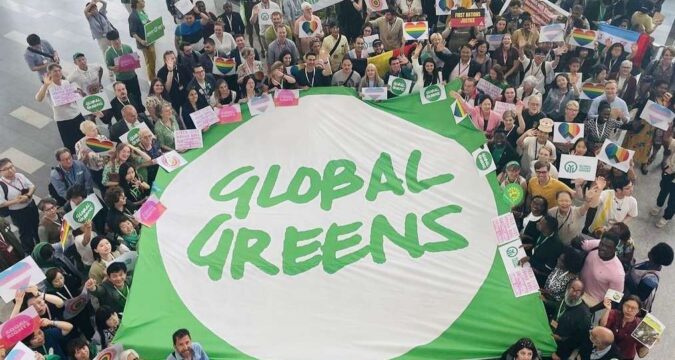 INDIA GREENS PARTY
Press Release on iGP leaders' participation in Global Greens fifth congress in Incheon, South Korea
Issued at iGP NHO at Greendham Anandi-Chait, Unchir-Dunktok, Pauri Garhwal, Uttarakhand on 12 June 2023.
After attending the fifth congress of the Global Greens in Incheon city of South Korea from 8 till 11 June 2023, the India Greens Party (iGP) leaders said Green Politics is the Politics of Hope, and therefore the real hope.
Ashish Thakuri, National Treasurer of the party, was the Official Representative of the party in the Global Greens Congress.
Ms Madhubanti Sen, Convener of the iGPWN, was another Representative who represented the party in the meetings of the APGF Women's network in particular.
Suresh Nautiyal, Founder of the party, was a Special Invitee in the congress.
Over 700 hundred Green activists joined the Global Greens in Korea and online to share, listen, learn and commit to climate and social justice action.
Greens joined the Global Greens Congress from over 80 different countries, and showed the world what it meant to be Greens and stand up for climate action, social justice and a better world.
The congress proved that it was an opportunity to connect to the Green Movement and prepare all of us with what we need to know to make a difference in our respective communities. The challenges the Greens face in the world are big, but our hearts, policy and action are bigger.

Global Greens as an organisation unites the four Green Federations, Global Young Greens, Indigenous communities, politicians, members, activists, academics, institutes, the UN and NGOs from around the green world.
Amongst many other agreements and endorsement, the world's Green Parties formally endorsed the Stop Ecocide International campaign to give nature legal rights and defend against pollution and environmental destruction.
Let us change politics, not climate! After the conclusion of the 4-day fifth congress of the Global Greens in Incheon city of South Korea on 11 June 2023, the message is clear and loud that there is no option to Green Politics. For the sustenance of all living being on earth, Green Politics is the only answer. Therefore, a better and more sustainable world has to be made possible.
–Issued by the iGP Chief Spokesperson Suresh Nautiyal.
————————————————
(India Greens Party is registered with the Election Commission of India under Section 29A of the Representation of the People Act, 1951. Registration Number: 56/476/2018-19/PPS-I, effective from 18/07/2019.)
National Head Office: GreenDham AnandiChait, IndraBalbhadra Parisar, Unchir-Dunktok, SH-31, PO-Ghurdauri, Distt-Pauri Garhwal, Uttarakhand, INDIA. PIN-246194.
Email: contact@indiagreensparty.org Website: https://indiagreensparty.org