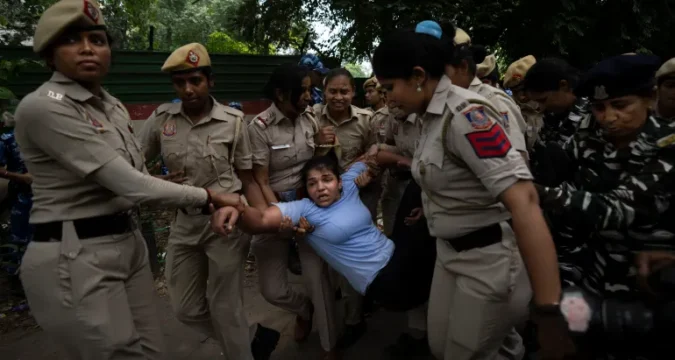 INDIA GREENS PARTY
Press Statement on Police Action Against Women Wrestlers
Issued at iGP NHO at Greendham Anandi-Chait, Unchir-Dunktok, Pauri Garhwal, Uttarakhand on 29 May 2023
The India Greens Party (iGP) today condemned the brutal police action against the protesting wrestlers in New Delhi on 28 May 2023.
The India Greens Party said it was wrong to detain the wrestlers, who have been protesting in the national capital for a month over the lack of action against Brijbhushan Sharan Singh, an MP belonging to Prime Minister Narendra Modi's ruling Bharatiya Janata Party.
Several of India's top wrestlers, including Olympic medallists Bajrang Punia and Sakshi Malik, were detained while trying to march to the new Parliament building in New Delhi as they intensified their protest demanding the arrest of their federation chief over sexual harassment allegations.
The protesting athletes have demanded his "immediate arrest" and sought the intervention of the Supreme Court, which directed the police to register a case against the 66-year-old Mr Singh. The MP has been accused of harassing several female athletes while leading the Wrestling Federation of India (WFI) and has denied all the allegations.
On 28 May 2023, the wrestlers tried to march to India's new Parliament building as Mr Modi was inaugurating it, but they were stopped by hundreds of police personnel. Among those detained and hauled away in buses were Olympic bronze medallists Malik and Punia.
The iGP demands that Mr Modi should not ignore complaints lodged by the wrestlers as he has portrayed himself as a champion of women's rights.
–Issued by the iGP Chief Spokesperson Suresh Nautiyal.
#wrestlers #Indianwrestlers #policeaction #Modi
————————————————
(India Greens Party is registered with the Election Commission of India under Section 29A of the Representation of the People Act, 1951. Registration Number: 56/476/2018-19/PPS-I, effective from 18/07/2019.)
National Head Office: GreenDham AnandiChait, IndraBalbhadra Parisar, Unchir-Dunktok, SH-31, PO-Ghurdauri, Distt-Pauri Garhwal, Uttarakhand, INDIA. PIN-246194.
Email: contact@indiagreensparty.org Website: https://indiagreensparty.org