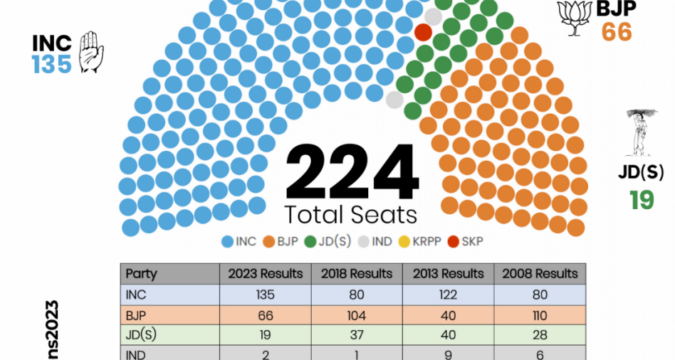 INDIA GREENS PARTY
Press Statement
Unchir-Dunktok, Pauri Garhwal, Uttarakhand, 16 May 2023: The India Greens Party (iGP) today thanked the people of Karnataka state to vote in favour of democracy and freedom of expression, and against the communal agenda of the Bharatiya Janata Party (BJP).
The Legislative Assembly elections were held in Karnataka on 10 May 2023 to elect all 224 members of the State Legislative Assembly. The votes were counted and the results were declared on 13 May 2023. The victorious party, the Congress, won 135 seats, whereas the BJP got only 66 seats, and the JD (S) was able to get only 19 seats. Four seats were won by others.
In a press statement issued here at the national head office (NHO), the party said the results of the #Karnataka Assembly #elections are in the larger interest of the country, and the people of the state have kept alive the hope of most Indians who were eagerly keeping a watch on the elections there.
The India Greens Party said the mandate by the people of the state was not only against PM Modi and Amit Shah; but also, against the communal and divisive politics in the country. It is interesting to see southern India being ruled by all non-BJP parties. It is a good indication for the future of the country.
It is also a victory against corruption and inflation despite the fact that more than 40 ministers, chief ministers of other states visited Karnataka to campaign for the BJP candidates.
"Karnataka has shown a ray of hope that will lead the country to a bright future and democracy. The people of the state have spelled a new mantra to save democracy in India," the party emphasised, adding that the results have acted as boosters, and defined the roadmap of the 2024 General Elections in the country.
"However, a comprehensive and broader political unity among all the progressive and pro-people forces, based on a common minimum programme, is the need of the hour to oust the present dispensation from the Centre," the iGP stated.
"Hope that the Congress party has a paradigm shift in its perception about other parties," the India Greens Party pointed out.
–Issued by the iGP Chief Spokesperson Suresh Nautiyal.
————————————————
(India Greens Party is registered with the Election Commission of India under Section 29A of the Representation of the People Act, 1951. Registration Number: 56/476/2018-19/PPS-I, effective from 18/07/2019.)
National Head Office: Greendham Anandi-Chait, Indra-Balbhadra Parisar, Unchir-Dunktok, Devprayag-Bubakhal State Highway-31, Patty-Idwalsyun, PO-Ghurdauri, Distt-Pauri Garhwal, Uttarakhand, INDIA. PIN-246194.
Email: contact@indiagreensparty.org Website:https://indiagreensparty.org