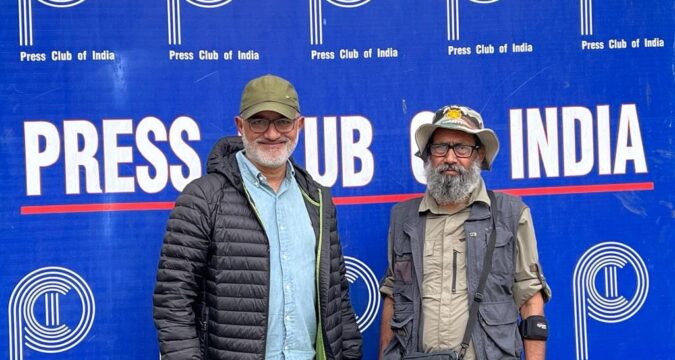 INDIA GREENS PARTY
Press Release
New Delhi, 20 March 2023: The Australian Greens leader, Deepak Joshi, and the Founder of the India Greens Party, Suresh Nautiyal, had a luncheon meeting today in New Delhi at the Press Club of India.
Both the leaders exchanged view on the status of Green Politics in India, Australia and elsewhere.
Both of them expressed their concern over the rise of rightist politics in several parts of the world including India. They felt that Green Politics was essential for the sustainability of the living being on the Earth. They also felt that social justice should be on top of everything.
Mr Joshi, who lives in Melbourne and orginally hails from the Indian state of Uttarakhand, contested an election in the Victoria province of Australia in the recent past which he could not win.
He is Executive Director of the NRI Affairs news flow which updates the Indian diaspora in Australia about the Indian affairs. Besides, he is associated with a humanist group in Melbourne.
Mr Joshi describes him as a world citizen, humanist, traveller, foodie, cricket Tragic, and optimist.
Both the leaders expressed the desire to take the relationship between the two parties to a new height.
–Issued by the iGP Chief Spokesperson Suresh Nautiyal.


————————————————
(India Greens Party is registered with the Election Commission of India under Section 29A of the Representation of the People Act, 1951. Registration Number: 56/476/2018-19/PPS-I, effective from 18/07/2019.)
National Head Office: Greendham Anandi-Chait, Indra-Balbhadra Parisar, Unchir-Dunktok, Devprayag-Bubakhal State Highway-31, Patty-Idwalsyun, PO-Ghurdauri, Distt-Pauri Garhwal, Uttarakhand, INDIA. PIN-246194.
Email: contact@indiagreensparty.org Website:https://indiagreensparty.org