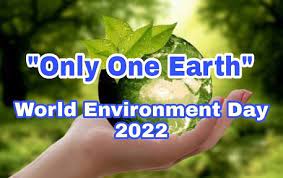 INDIA GREENS PARTY
Press Statement
Unchir-Dunktok, Pauri Garhwal, Uttarakhand, 5 June 2022: Extending the best wishes to the people on the occasion of the World Environment Day (WED) today, the India Greens Party (iGP) said there is an urgent need to live sustainably in harmony with Nature.
In a press statement issued here on the occasion of the WED, the IGP Co-President Rajendra Minj said humans can make peace with Nature by growing trees, greening cities, rewilding gardens, changing diets or cleaning up rivers and coasts.
The WED is celebrated on 5 June every year. It is the UN's principal vehicle for encouraging awareness and action for the protection of our environment. Each year, the WED provides a new theme that the governments, organisations, corporations, NGOs, communities and all celebrities worldwide adopt to advocate environmental causes. "Only One Earth" is the campaign slogan this year, with focus on "Living Sustainably in Harmony with Nature". World Environment Day 2022 is hosted by Sweden.
The Day is held annually since 1974. It has grown to be the largest global platform for environmental outreach. It is celebrated by millions of people across the world.
On the occasion, the iGP Founder-Patron-Mentor Suresh Nautiyal called upon the Government of India to not go ahead with all those projects that posed threats to the ecology and environment and put the future of the generations ahead in danger.
"It is important to know that climate emergency is for real and it is the responsibility of every citizen and every government to deal with the critical situation," the IGP Founder pointed out.
–Issued from the IGP NHO.
………………………………………………………………..
(India Greens Party is registered with the Election Commission of India under Section 29A of the Representation of the People Act, 1951. Registration Number: 56/476/2018-19/PPS-I, effective from 18/07/2019.)
National Head Office: GreenDham AnandiChait, IndraBalbhadra Parisar, Unchir-Dunktok, SH-31, PO-Ghurdauri, Distt-Pauri Garhwal, Uttarakhand, INDIA. PIN-246194.
Email: contact@indiagreensparty.org Website: https://indiagreensparty.org