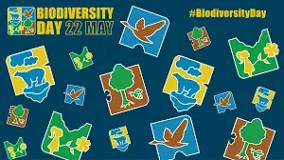 INDIA GREENS PARTY
Press Statement
Unchir-Dunktok, Pauri Garhwal, Uttarakhand, 22 May 2022: The India Greens Party (iGP) today called upon the governments to give top priority to biodiversity as it remains the answer to several sustainable development challenges.
In a press statement issued here at the national head office (NHO) of the party, Co-Presidents, Ms Nazeema AK and Mr Rajendra Minj, said biodiversity is the foundation upon which we can build back nature-based solutions to climate, health issues, food and water security, and sustainable livelihoods.
The United Nations proclaimed May 22 the International Day for Biological Diversity to increase understanding and awareness of biodiversity issues. In December 2000, the UN General Assembly adopted 22 May as the International Day for Biological Diversity to commemorate the adoption of the text of the Convention on 22 May 1992 by the Nairobi Final Act of the Conference for the Adoption of the Agreed Text of the Convention on Biological Diversity.
The iGP Chief Spokesperson Mr Prabhath Prabhakaran warned against continuous human meddling leading to the irreversible loss of biodiversity. "Governments must formulate policies that protect biodiversity since biological diversity maintains everything we need to survive like shelter, food, and clean water," he said.
The Secretariat of the Convention on Biological Diversity has chosen the Biodiversity Day 2022 slogan: "Building a shared future for all life".
–Issued by the iGP Chief Spokesperson Prabhath Prabhakaran.
………………………………………………………………..
(India Greens Party is registered with the Election Commission of India under Section 29A of the Representation of the People Act, 1951. Registration Number: 56/476/2018-19/PPS-I, effective from 18/07/2019.)
National Head Office: GreenDham AnandiChait, IndraBalbhadra Parisar, Unchir-Dunktok, SH-31, PO-Ghurdauri, Distt-Pauri Garhwal, Uttarakhand, INDIA. PIN-246194.
Email: contact@indiagreensparty.org Website: https://indiagreensparty.org