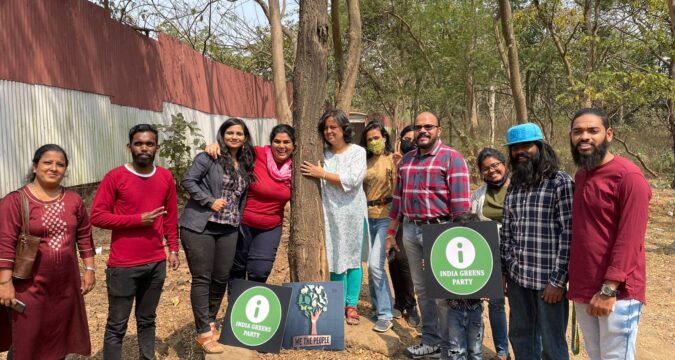 INDIA GREENS PARTY
Press Statement
Mumbai, 13 February 2022: The office bearers and members of the Brihan Mumbai Unit of the India Greens Party (iGP) today celebrated the Valentine's Day in a unique way – by hugging trees and planting the tree saplings in the local Aarey Forest area.
The programme was held on the eve of the Valentine's Day.
On the occasion, the Brihan Mumbai unit of the party called upon the people of Mumbai to express their love and respect towards their oldest companions that have always cared for them – trees.
The event was conducted in Aarey Forest area, where there are ongoing struggles to protect the natural environment. The activities included tree plantation, tree-hugging and a story-telling session by environmental activist, Ms Amrita Bhattacharjee, about the environmental struggle for the protection of Aarey forest.
The iGP National Co-President, Dr Apeksha Wasudeo Khobragade, joined the office bearers and members of the Brihan Mumbai unit of the India Greens Party at Aarey Forest from Pune, Maharashtra. National Vice-President, Ms Ishpriya Kaur Chadha, also took part in the event.
The iGPWN National Convener, Ms Shivani Bhatt, played a key role in organising the action programme.
Other who attended the programme included Ms Archana Patel Nandi (Brihan Mumbai unit General Secretary), and Swapni Bodhe (Spokesperson). The iGP Brihan Mumbai members and supporters like Prashant Laxmeshwar, Elijah Emmanuel, Uday Kumar, Akash, Kishan Singh, Gauravi, Mandeep Singh, Soniya, Anupama, and Graatus also were part of this unique action programme.
–Issued by Ishpriya Kaur Chadha and Swapnil Bodhe, Spokespersons for Brihan Mumbai State Executive Commiittee.
——————————————————————————————————–
(India Greens Party is registered with the Election Commission of India under Section 29A of the Representation of the People Act, 1951. Registration Number: 56/476/2018-19/PPS-I, effective from 18/07/2019.)
Registered Office: 104, Vardhman Complex, 1st Floor, LSC, Savita Vihar, Delhi-110092.
National Head Office: Greendham Anandi-Chait, Indra-Balbhadra Parisar, Unchir-Dunktok, Devprayag-Bubakhal State Highway-31, Patty-Idwalsyun, PO-Ghurdauri, Distt-Pauri Garhwal, Uttarakhand, INDIA. PIN-246194.
Email: contact@indiagreensparty.org Website:https://indiagreensparty.org