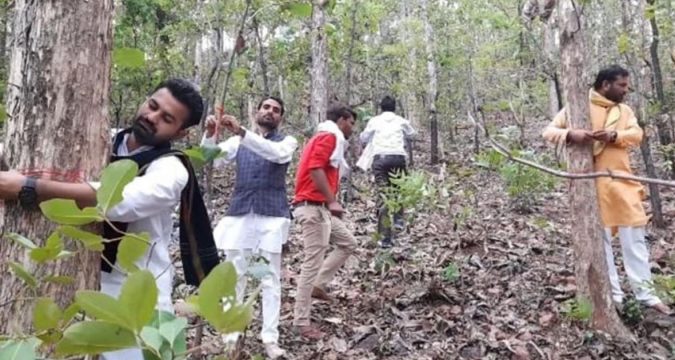 INDIA GREENS PARTY
Press Statement
Unchir-Dunktok, Pauri Garhwal, Uttarakhand, 2 September 2021: The India Greens Party (iGP) today extended its support to the campaign to save Madhya Pradesh's Buxwaha Forest, and said the diamond mining project there must end.
In a press statement issued here at the national head office (NHO) of the party, the iGP President Suresh Nautiyal said execution of the diamond mining project in the heart of the Buxwaha Forest, which aims to extract estimated 3.42-cr-carrot of diamonds, will negatively change the biodiversity of the area, and impact some 8,000 dwellers of nearby 20 villages.
"The company undertaking the diamond project must withdraw the project as it risks felling of over 2-lakh trees as well as increasing air and water pollution," pointed out the Green leader.
The project, about 80-km from Chhatarpur, the district headquarters, and 260-km from Bhopal, the state capital, will clear scores of varieties of trees including herbal plants like Amla, and Mahua, Tendu leaves, Chironji, etc, in more than 380-hectare area in Buxwaha Protected Forest and located near village Sagoria.
The project will require an estimated 5.9-million-cubic-metre per day of water that will be fulfilled by making a dam diverting a seasonal nallah (canal) which can store up to 17-million cubic metre.
Mr Nautiyal said it is good that the concerned people have created a nationwide online awareness campaign — #SaveBuxwahaForest.
A public interest litigation (PIL) was also submitted to the Supreme Court requesting a stay on the diamond mining project.
The company engaged in the project plans to develop a fully mechanised opencast mine and processing plant for diamond. The company targets the execution of the mining lease by end of the year 2022 and thereafter initiate the mining activities.
"It is a welcome step that the National Green Tribunal central zone bench Bhopal has stayed felling of trees in Buxwaha project until further orders, and that notices have been issued to Centre, state government, forest department and the private mining company for furnishing a reply within four weeks," said the Green leader, adding that it is interesting that the kids from Bhutan, US, Nigeria, UK, etc, have also extended support to the campaign on social media; and according to Convener of Buxwaha Jungle Bachao Campaign, the local villagers have pledged to save the forest.
–Issued by Deepak Dabral, iGP Office Secretary.
……………………………………………………
(India Greens Party is registered with the Election Commission of India under Section 29A of the Representation of the People Act, 1951. Registration Number: 56/476/2018-19/PPS-I, effective from 18/07/2019.)
Registered Office: 104, Vardhman Complex, 1st Floor, LSC, Savita Vihar, Delhi-110092.
National Head Office: GreenDhamAnandiChait, IndraBalbhadraParisar, Unchir-Dunktok, PO-Ghurdauri, Patty-Idwalsyun, Distt-Pauri Garhwal, Uttarakhand, INDIA. PIN-246194.
Email: indiagreensparty@gmail.com Website: https://indiagreensparty.org