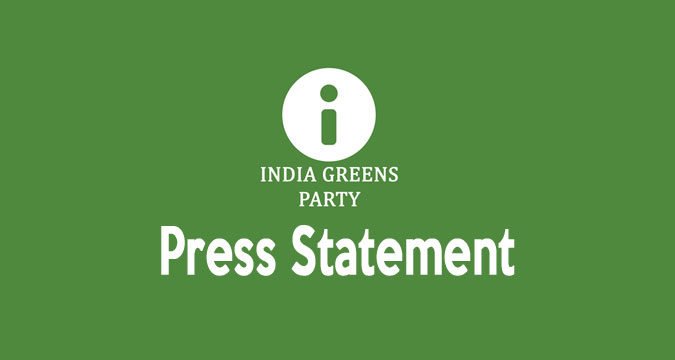 INDIA GREENS PARTY
(Brihan Mumbai)
Press Statement
Mumbai, 10 August 2021: The Brihan Mumbai Unit of the India Greens Party (iGP) today extended its support to the protesting theatre artistes and technicians of the Brihan Mumbai demanding opening of the theatres which were shutdown due to Corona pandemic.
The iGP Brihan Mumbai demanded that the theatre artistes and technicians get adequate financial relief from the Maharashtra State Government.
In a press release issued here by the Brihan Mumbai Executive Committee of the iGP, the President of the Brihan Mumbai unit demanded that the state government must immediately give relief to the theatre artistes and technicians in Brihan Mumbai so that all the stakeholders and daily wage earners get back to their normal life and earn their wages to feed their families.
The iGP Brihan Mumbai Unit also suggested that the Covid-19 safety guidelines be issued while opening the theatres and adequate support should be extended by the state government to the theatre fraternity so that it returns to normalcy and restores the livelihoods of thousands of Brihan Mumbai theatre artistes and technicians.
"The iGP Brihan Mumbai iGP will resort to street protests in case the above-mentioned demands of the theatre artistes and technicians are not met urgently," the Brihan Mumbai unit of the party warned.
–Issued by Mukesh BS Jadhav, Spokespersons for the Brihan Mumbai State Executive Committee.
………………………………………………………………..
(India Greens Party is registered with the Election Commission of India under Section 29A of the Representation of the People Act, 1951. Registration Number: 56/476/2018-19/PPS-I, effective from 18/07/2019.)
Registered Office: 104, Vardhman Complex, 1st Floor, LSC, Savita Vihar, Delhi-110092.
National Head Office: GreenDhamAnandiChait, IndraBalbhadraParisar, Unchir-Dunktok, PO-Ghurdauri, Patty-Idwalsyun, Distt-Pauri Garhwal, Uttarakhand, INDIA. PIN-246194.Email: indiagreensparty@gmail.com We