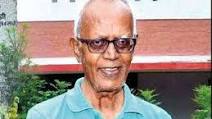 INDIA GREENS PARTY
Press Statement
Unchir-Dunktok, Pauri Garhwal, Uttarakhand, 6 July 2021: The India Greens Party (iGP) has expressed profound grief and anguish at the death of 84-year-old Father Stan Swamy.
In a press statement issued here today, the iGP President Suresh Nautiyal said it is regrettable that Father Stan Swami was not granted bail despite various appeals. As a result, his condition deteriorated in the Taloja jail where he was lodged.
Father Stan Swamy was also afflicted with Parkinson's disease, a disabling condition. The ruthless and brutal manner in which he was treated is evident of the failure of our system.
It is only after the Bombay High Court's intervention that he was admitted to a private hospital in a deteriorated condition due to deadly Corona virus.
"It is a sad commentary on the Indian democracy that his fervent appeals to be sent to his home state, Jharkhand, to spend his last days, went in vain," said the iGP leader.
Father Stan Swami — a Jesuit priest and activist who worked tirelessly for the marginalised and the adivasis in remote areas of Jharkhand state — was jailed on false and trumped-up charges.
"Denial of timely treatment and care cost him his precious life. It is not merely a custodial death. In fact, it is a judicial death and a telling example of the failure of our whole system," pointed out Mr Nautiyal.
–Issued by Deepak Dabral, iGP Office Secretary.
……………………………………………………
(India Greens Party is registered with the Election Commission of India under Section 29A of the Representation of the People Act, 1951. Registration Number: 56/476/2018-19/PPS-I, effective from 18/07/2019.)
Registered Office: 104, Vardhman Complex, 1st Floor, LSC, Savita Vihar, Delhi-110092.
National Head Office: GreenDhamAnandiChait, IndraBalbhadraParisar, Unchir-Dunktok, PO-Ghurdauri, Patty-Idwalsyun, Distt-Pauri Garhwal, Uttarakhand, INDIA. PIN-246194.Email: indiagreensparty@gmail.com Website: https://indiagreensparty.org