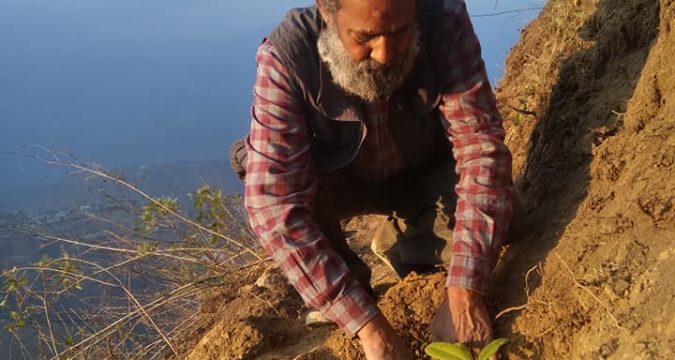 INDIA GREENS PARTY
Press Release
iGP plants trees at its NHO on Int'l Mother Earth Day
Unchir-Dunktok, Pauri Garhwal, Uttarakhand, 22 April 2021: The India Greens Party (iGP) planted saplings of rhododendron (Burans) and Kafal berry trees on the occasion of the International Mother Earth Day today.
The saplings were planted by the party President Suresh Nautiyal and a few others in the complex of the party's national head office (NHO) at GreenDham AnandiChait IndraBalbhadra Parisar, Pauri Garhwal, Uttarakhand.
In a press release issued here, the iGP President Suresh Nautiyal said Mother Earth is clearly urging the humans to take action as nature is suffering.
"The iGP planted saplings of the food trees – Kafal Berry and Rhododendron — that also have the medicinal properties. It was a small gesture of enriching the biodiversity. And, it was a great occasion for us because this International Mother Earth Day coincides with the Super Year of Biodiversity," Mr Nautiyal added.
He said the human need to shift to sustainable living and an economy that works for both people and the planet.
Mr Nautiyal said a healthy ecosystem will help to protect the humans from several diseases as biological diversity makes it difficult for pathogens to spread rapidly.
– Issued by the IGP Office Secretary Deepak Dabral.
………………………………………………………….
(India Greens Party is registered with the Election Commission of India under Section 29A of the Representation of the People Act, 1951. Registration Number: 56/476/2018-19/PPS-I, effective from 18/07/2019.)
Registered Office: 104, Vardhman Complex, 1st Floor, LSC, Savita Vihar, Delhi-110092.
National Head Office: GreenDham AnandiChait, IndraBalbhadra Parisar, Unchir-Dunktok, PO-Ghurdauri, Patty-Idwalsyun, Distt-Pauri Garhwal, Uttarakhand, INDIA. PIN-246194.
Email: indiagreensparty@gmail.com Website: https://indiagreensparty.org