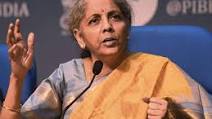 INDIA GREENS PARTY
Press Statement
Union Budget disappoints farmers, common people, says IGP
Unchir-Dunktok, Pauri-Garhwal, Uttarakhand, 2 February 2021: The India Greens Party (IGP) today said the union budget 2021-22 has disappointed the farmers in particular no matter how much the Finance Minister Nirmala Sitharaman emphasised the government's "track record' in paying minimum support prices (MSP) to farmers and the decision to allow State-run Agricultural Produce Marketing Committees (APMCs) to access the ₹1-lakh-crore Agriculture Infrastructure Fund (AIF).
In a press statement issued here, the IGP President Suresh Nautiyal said it is very sad that the budget allocation for the Department of Agriculture, Cooperation and Farmers Welfare was slashed 8.5% this time. "Even the flagship PM-KISAN scheme, meant to provide income support to farmers, saw a 13% drop in its budget, which is ₹10,000-crore lower than last year's initial allocation," pointed out Mr Nautiyal.
"The Union Budget has mocked the agitating farmers. Thousands of farmers, wider agricultural community and their supporters have been protesting on Delhi's borders for the last two months, but the Modi Government has chosen to not listen to them. This is really shameful," added the IGP leader.
"The protesting farm unions are still demanding repeal of the three agrarian 'reform' laws that they fear will lead to the collapse of the APMCs and weaken the system of government procurement at MSP rates, leaving small farmers at the mercy of corporate players; but the Modi Government is regrettably bent upon siding with the crony capitalist friends," stated Mr Nautiyal, adding that budget has also disappointed the common people who were trying to wriggle out of the Corona woes.
-Issued by the IGP Spokesperson (North) Rafat Jamal.
……………………………………………………………………………………………
(India Greens Party is registered with the Election Commission of India under Section 29A of the Representation of the People Act, 1951. Registration Number: 56/476/2018-19/PPS-I, effective from 18/07/2019.)
Registered Office: 104, Vardhman Complex, 1st Floor, LSC, Savita Vihar, Delhi, INDIA. PIN-110092.
National HQ: GreenDham AnandiChait, IndraBalbhadra Parisar, Unchir-Dunktok, PO-Ghurdauri, Patty-Idwalsyun, Distt-Pauri Garhwal, Uttarakhand, INDIA. PIN-246194.
Email: indiagreensparty@gmail.com Website: https://indiagreensparty.org/