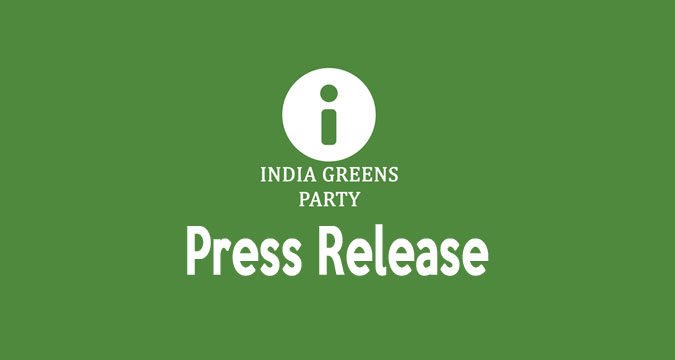 INDIA GREENS PARTY
Press Release
IGP to hold its 2nd annual national convention Online on 18 November from 8:45 AM till 13:15 PM
New Delhi, 8 November 2020: The India Greens Party (IGP) today reiterated that the second annual national convention of the party would be held Online on its Foundation Day, 18 November.
"After so many vertical and horizontal strides and numerous ups and downs, the IGP is all set to hold its second annual national convention on 18 November 2020, led by our Founder-President, Suresh Nautiyal," said the IGP Secretary-General Rehana Siddiqui in a press release issued here.
Ms Siddiqui said the convention will be held Online on Zoom application due to COVID-19 pandemic. It will start at 08:45 Am and conclude at 13:15 PM on 18 November 2020.
According to her, the party has created a Steering Committee to successfully hold the 2nd Annual National Convention on 18 November 2020.
The IGP Secretary-General said all members of the IGP National Council including all national office bearers, national executive members, PAC members and key office bearers from the states will take part in the half-day Online convention.
"The National Council of the party, which is the highest body of the party, will also hold its Business and Political Sessions during the Convention." said Ms Siddiqui.
-Press Release issued by the IGP Spokesperson (North) Rafat Jamal.
………………………………………………………………………………………………..
(India Greens Party is registered with the Election Commission of India under Section 29A of the Representation of the People Act, 1951. Registration Number: 56/476/2018-19/PPS-I, effective from 18/07/2019.)
Party HQ: 104, Vardhman Complex, 1st Floor, LSC, Savita Vihar, Delhi-110092.
Email: indiagreensparty@gmail.com Website: https://indiagreensparty.org/