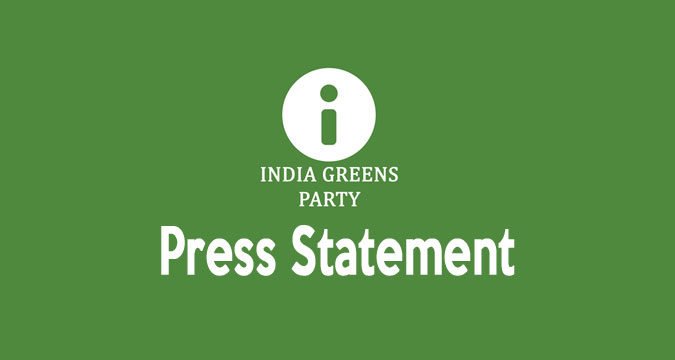 INDIA GREENS PARTY
Press Statement 
New Delhi, 10 February 2020: Congratulating the people across the globe on the occasion of festival of colours – Holi – the India Greens Party (IGP) calls upon them to continue to observe it as celebration of oneness of humanity.
The great spirit of oneness of humanity in the festival of Holi has been bringing people of all classes, creeds, castes and generations together — thus making itself popular even among the non-Hindu communities, said a party press statement issued here by spokesperson Michael Rajchandra.
In his message, the IGP President Suresh Nautiyal said the festival of colours signifies victory of good over evil and gives us all a message that life should be colourful like this festival.
"It is regrettable that the narrowness and fundamentalism have overshadowed the festival of colours. But, time is ripe to repair what has been damaged by the divisive forces," he said.
The IGP President reiterated there is an urgent need to have respect for diversity in society. "Just think whether we can make life colourful if there is no diversity? Nature does not like monoculture, it loves biodiversity. Similarly, we ought to love and respect diversity as we come from the same Nature," Mr Nautiyal pointed out.
He said the recent condemnable communal riots in the national capital of Delhi do not give us much enthusiasm to celebrate the festival of colours. "However, we have to move on and weave together what was torn apart," Mr Nautiyal stated.
"Healthy societies are those who have respect for diversity. Therefore, let us pledge on this occasion of Holi to keep the diversity of India and of the world intact," Mr Nautiyal concluded.
-Press Statement issued by the IGP Spokesperson Michael Rajchandra
———————————————
Registered Office: 104, 1st Floor Vardhman Complex, LSC, Savita Vihar, Delhi-110092.
Election Commission of India (ECI) Registration Number: 56/476/2018-19/PPS-I.
Email: indiagreensparty@gmail.com
Website: https://indiagreensparty.org