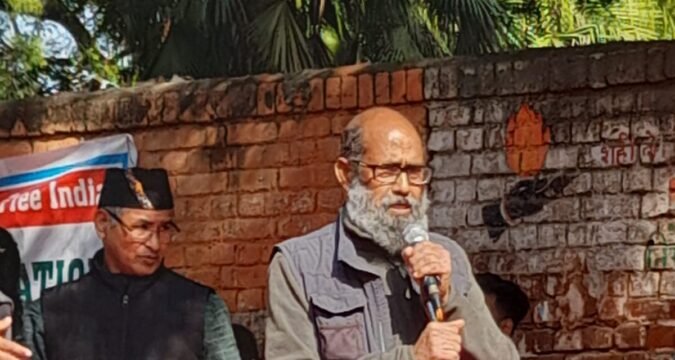 INDIA GREENS PARTY
Press Release
New Delhi, 4 February 2023: The India Greens Party (iGP) Founder Suresh Nautiyal today regretted that it was a daunting task to save the town of Joshimath from subsidence and consequent collapse due to lackadaisical approach of the government.
Addressing a sit-in (dharna) programme at the Jantar-Mantar Protest Plaza in New Delhi today, Mr Nautiyal said the only solution in sight is to relocate Joshimath people to a safer place in the mountains of Garhwal and rehabilitate them by compensating the real-time costs of their respective houses, buildings and shops, etc.
According to a press release issued here, Mr Nautiyal pointed out that the Joshimath incident was an ecological tragedy borne of the corrupt political leadership and bad governance.
The day-long sit-in programme was organised by the Voice of Mountains and supported by several organisations of the Uttarakhand people living in the Delhi-NCR. It was attended by more than 300 hundred people.
"It is a political question that needs a political solution. The Joshimath crisis needs to be understood from the ecological, environmental, and geological aspects. The question is: Why the governments over the years failed to find a lasting solution to the problem when several reports in the past had feared an ecological tragedy in the town?"
Mr Nautiyal asked why the government continues to put the real issues born of the tragedy under the carpet, and not tackle them honestly?
Besides, there is question as to why the government agencies are trying to build a narrative that is against the expectations of the local people?
And why does the ruling party leadership sees a Maoist angle in the leadership of the Joshimath Bachao Sangharsh Samiti (the group formed to save the town of Joshimath)?
The Green leader suggested that formation of a dedicated department for the conservation of the Himalaya under the central Ministry of Environment, Forest, and Climate Change would be a constructive step forward.
– Press Release issued by Chief Spokesperson, iGP.
………………………………………………………………..
(India Greens Party is registered with the Election Commission of India under Section 29A of the Representation of the People Act, 1951. Registration Number: 56/476/2018-19/PPS-I, effective from 18/07/2019.)
National Head Office: GreenDham AnandiChait, IndraBalbhadra Parisar, Unchir-Dunktok, SH-31, PO-Ghurdauri, Distt-Pauri Garhwal, Uttarakhand, INDIA. PIN-246194.
Email: contact@indiagreensparty.org Website: https://indiagreensparty.org