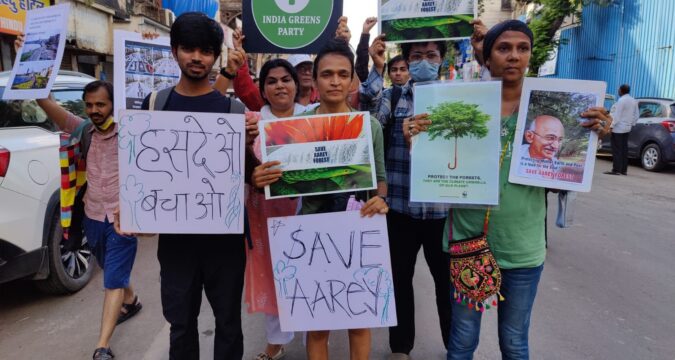 INDIA GREENS PARTY
(Brihan Mumbai State Executive Committee)
Release
Mumbai, 2 October 2022: The leaders and members of the Brihan Mumbai unit of the India Greens Party today took part in the Nafrat Chhodo, Samvidhan Bachao Abhiyan (Reject Hate, Save Constitution Campaign) on the birth anniversary of the Father of the Nation, Mahatma Gandhi.
The march was organised from the historical August Kranti Maidan to the Gandhi Statue opposite Mantralaya or Secretariat. It included the Bharat Jodo component as well.
According to a press release issued here by the Brihan Mumbai unit, several other political parties as well as citizens thronged in large numbers to support the 'Nafrat Chhodo, Samvidhan Bachao Abhiyan'.
The placards of the India Greens Party were carried by the Secretary-General Archana Patel, the iGP Women's Network National Convener Shivani Bhatt, and other leaders and members of the party.
Ms Archana Patel and Ms Shivani Bhatt also represented the Save Aarey Forest Campaign in the march.
Ms Amrita Bhattacharjee, who is one of the petitioners in the Aarey Forest case, was also at the rally.
The purpose of the rally was to pressurise the BJP-led government at the Centre to quit the 'divide and rule' policy, abort the more-than-subtle 'communal hatred' and bring different religious and cultural communities together as One Nation, One Entity!
The Brihan Mumbai unit of the iGP voiced its serious concern over the ongoing concretisation of the Aarey Forest to complete the construction of a car-shed of the Metro 3 line on the floodplains of the Mithi river that flows through Aarey Forest.
The iGP strongly objects to the destruction of this ecologically sensitive region that runs contiguous to the Sanjay Gandhi National Park which is a protected forest and Aarey is the buffer for the same.
The site in Aarey Forest where the car-shed stands today is also home to five leopards in addition to a rich biodiversity of flora and fauna, which will soon be lost to the so-called development. The vested interests of the land mafia are not a secret any more.
It looks to the Brihan Mumbai unit of the party that the Supreme Court too seems to be dragging its feet over the matter, though citizen-activists and environmentalists alike look up to it as their only ray of hope.
It seems strange that the global Climate Crisis has eluded the leaders in New Delhi even now as the people walk dangerously close to the point of no return into the Sixth Mass Extinction.
-Issued by Prabhath Prabhakaran, Chief Spokesperson,
India Greens Party.
………………………………………………………………..
(India Greens Party is registered with the Election Commission of India under Section 29A of the Representation of the People Act, 1951. Registration Number: 56/476/2018-19/PPS-I, effective from 18/07/2019.)
National Head Office: GreenDham AnandiChait, IndraBalbhadra Parisar, Unchir-Dunktok, SH-31, PO-Ghurdauri, Distt-Pauri Garhwal, Uttarakhand, INDIA. PIN-246194.
Email: contact@indiagreensparty.org Website: https://indiagreensparty.org