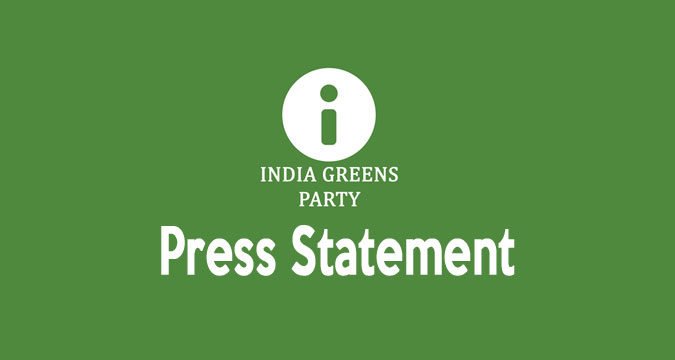 INDIA GREENS PARTY
Press Statement
Unchir-Dunktok, Pauri Garhwal, Uttarakhand, 21 March 2022: The India Greens Party (iGP) today said restoration and sustainable management of forests can help address the climate-change and biodiversity crises.
The iGP said it expects all the communities to take part in the forest restoration efforts.
In a press statement issued on the occasion of the International Day of Forests today at its national head office (NHO) here, the iGP Co-Presidents Dr Apeksha Wasudeo Khobragade and Rajendra Minz expressed concern over uninterrupted global deforestation despite invaluable ecological, economic, social, and health benefits from the forests, made up of over 60,000 tree species. They said it is regrettable that deforestation continues at an alarming rate.
"It is sad that thirteen million hectares of forest are destroyed annually and this accounts for 12 to 20 percent of the global greenhouse gas emissions that contribute to climate change," said the iGP leaders.
The United Nations General Assembly proclaimed 21 March, the International Day of Forests, in 2012. The Day celebrates and raises awareness about the importance of all types of forests. On each International Day of Forests, countries are encouraged to undertake local, national, and international efforts to organise activities involving forests and trees, such as tree planting campaigns.
The iGP Chief Spokesperson Prabhath Prabhakaran said forests, their sustainable management and use of resources, including even fragile ecosystems, remain key to combating climate change, and contributing to the prosperity and well-being of current and future generations. He added that forests also play a crucial role in poverty alleviation.
Forests cover one-thirds of the Earth's land mass, performing vital functions around the world. Around 1.6 billion people, including more than 2,000 indigenous cultures, depend on forests for their livelihoods, medicines, fuel, food, and shelter. Besides, forests are the most biologically-diverse ecosystems on land, home to more than 80% of the terrestrial species of animals, plants, and insects.
–Issued by the iGP Chief Spokesperson Prabhath Prabhakaran.
————————————————
(India Greens Party is registered with the Election Commission of India under Section 29A of the Representation of the People Act, 1951. Registration Number: 56/476/2018-19/PPS-I, effective from 18/07/2019.)
National Head Office: Greendham Anandi-Chait, Indra-Balbhadra Parisar, Unchir-Dunktok, Devprayag-Bubakhal State Highway-31, Patty-Idwalsyun, PO-Ghurdauri, Distt-Pauri Garhwal, Uttarakhand, INDIA. PIN-246194.
Email: contact@indiagreensparty.org Website:https://indiagreensparty.org