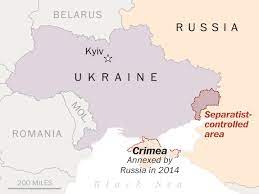 INDIA GREENS PARTY
Press Statement
Unchir-Dunktok, Pauri-Garhwal, Uttarakhand, 15 February 2022: The India Greens Party (iGP) today expressed concerns over escalation of tension in Eastern European country of Ukraine bordering Russia, and called upon all the stakeholders; particularly Russia, the US, and the NATO; to find a lasting peaceful solution to the Ukraine crisis through sustained collaborative diplomatic efforts.
In a press statement issued here at the national head office (NHO), the party said a lasting ceasefire in the conflict zones of eastern Ukraine and a peaceful resolution of the situation were need of the hour.
"Ukraine's independence, sovereignty and territorial integrity must be respected and its citizens must be allowed to determine their future without foreign interference," the party asserted.
The iGP said it would appreciate non-violent responses to the situation. History has taught that the armed conflicts take no country nowhere, and they devastate nations, and violate the human rights.
The party takes note of Russia's concerning military build-up on Ukraine's borders, and in view of this calls upon all the stakeholders to make efforts to ensure that there is no violent response to the situation from any side.
The iGP requests the governments to not engage their militaries in the conflict, and appeals to the arm producing countries to not export weapons to this conflict zone. Instead, the governments should support Ukraine's civil society and democratic institutions.
–Issued by the iGP Chief Spokesperson Prabhath Prabhakaran.
——————————————————————————————————–
(India Greens Party is registered with the Election Commission of India under Section 29A of the Representation of the People Act, 1951. Registration Number: 56/476/2018-19/PPS-I, effective from 18/07/2019.)
Registered Office: 104, Vardhman Complex, 1st Floor, LSC, Savita Vihar, Delhi-110092.
National Head Office: Greendham Anandi-Chait, Indra-Balbhadra Parisar, Unchir-Dunktok, Devprayag-Bubakhal State Highway-31, Patty-Idwalsyun, PO-Ghurdauri, Distt-Pauri Garhwal, Uttarakhand, INDIA. PIN-246194.
Email: contact@indiagreensparty.org Website:https://indiagreensparty.org