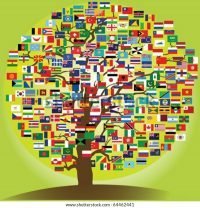 INDIA GREENS PARTY
Press Statement
Int'l Day of Friendship: Simplest way of challenging forces of division is friendship, says iGP
Unchir-Dunktok, Pauri Garhwal, Uttarakhand, 30 July 2021: The India Greens Party (iGP) today said the simplest way of challenging the crises and forces of division is friendship.
In a press statement issued here on the occasion of the International Day of friendship today, the iGP President Suresh Nautiyal said those crises, challenges, and forces of division that our world faces must be addressed by promoting and defending a shared spirit of human solidarity that takes many forms — the simplest of which is friendship.
The International Day of Friendship was proclaimed in 2011 by the UN General Assembly with the idea that friendship between peoples, countries, cultures and individuals can inspire peace efforts and build bridges between communities. The resolution places emphasis on involving young people, as future leaders, in community activities that include different cultures and promote international understanding and respect for diversity.
Mr Nautiyal said poverty, violence, and human rights abuses undermine peace, security, development and social harmony among the peoples.
"Through friendship we can contribute to the fundamental shifts that are urgently needed to achieve lasting stability, weave a safety net that will protect us all, and generate passion for a better world where all are united for the greater good," he pointed out.
The iGP leader said all of us should encourage governments, international organisations and civil society groups to hold events, activities and initiatives that contribute to the efforts of the international community towards promoting a dialogue among civilisations, solidarity, mutual understanding and reconciliation.
"The India Greens Party believes that the International Day of Friendship will foster a culture of peace through education; promote sustainable economic and social development; promote respect for all human rights; ensure equality between women and men; foster democratic participation; advance understanding, tolerance and solidarity; support participatory communication and the free flow of information and knowledge; and, promote international peace and security," Mr Nautiyal concluded.
· –Issued by Deepak Dabral, iGP Office Secretary.
· ……………………………………………………
· (India Greens Party is registered with the Election Commission of India under Section 29A of the Representation of the People Act, 1951. Registration Number: 56/476/2018-19/PPS-I, effective from 18/07/2019.)
· Registered Office: 104, Vardhman Complex, 1st Floor, LSC, Savita Vihar, Delhi-110092.
· National Head Office: GreenDhamAnandiChait, IndraBalbhadraParisar, Unchir-Dunktok, PO-Ghurdauri, Patty-Idwalsyun, Distt-Pauri Garhwal, Uttarakhand, INDIA. PIN-246194.
· Email: indiagreensparty@gmail.com Website: https://indiagreensparty.org
With Green wishes,
Suresh Nautiyal
President, IGP — India Greens Party. Website: www.indiagreensparty.org
Phones: +91-8860072030 and +91-9868182289.
friendship day.jpg