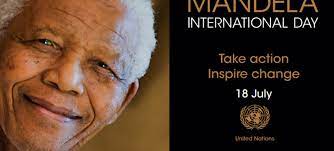 INDIA GREENS PARTY
Press Statement
Unchir-Dunktok, Pauri Garhwal, Uttarakhand, 18 July 2021: The India Greens Party (iGP) today called upon the people to mark a difference in their respective communities by dedicating themselves to the service of humanity.
In a press statement issued by the iGP President Suresh Nautiyal at the national head office (NHO) of the party, on the occasion of the Nelson Mandela International Day today, he said the people need to get inspiration from the life and work of Nelson Mandela, who devoted his life to the service of humanity — as a human rights lawyer, as a prisoner of conscience, as an international peacemaker, and as the first democratically elected president of a free South Africa.
On 18 July every year, the Nelson Mandela International Day is celebrated. In recognition of the former South African President's contribution to the culture of peace and freedom, the UN General Assembly declared 18 July as Nelson Mandela International Day in November 2009.
Mr Nautiyal said that everyone has the ability and the responsibility to change the world for the better.
"The Nelson Mandela International Day is an occasion for all of us to take action and inspire change," the Green leader said.
Mr Nautiyal reminded the people that Nelson Mandela had played a significant role in conflict resolution, race relations, promotion and protection of human rights, reconciliation, gender equality and the rights of children and other vulnerable groups.
"Mandla also fought against poverty, and promoted social justice. Besides, he made a profound contribution to the struggle for democracy internationally and the promotion of a culture of peace throughout the world," added the iGP President Suresh Nautiyal.
–Issued by Deepak Dabral, iGP Office Secretary.
……………………………………………………
(India Greens Party is registered with the Election Commission of India under Section 29A of the Representation of the People Act, 1951. Registration Number: 56/476/2018-19/PPS-I, effective from 18/07/2019.)
Registered Office: 104, Vardhman Complex, 1st Floor, LSC, Savita Vihar, Delhi-110092.
National Head Office: GreenDhamAnandiChait, IndraBalbhadraParisar, Unchir-Dunktok, PO-Ghurdauri, Patty-Idwalsyun, Distt-Pauri Garhwal, Uttarakhand, INDIA. PIN-246194.
Email: indiagreensparty@gmail.com Website: https://indiagreensparty.org