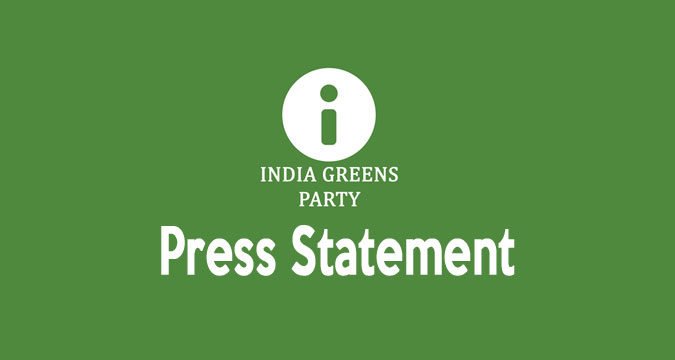 INDIA GREENS PARTY
Press Statement
Hong Kong's citizens should be free to exercise rights guaranteed under Basic Law: IGP
Unchir, Pauri-Garhwal, Uttarakhand, 4 December 2020: The India Greens Party (IGP) has said it is shocked by the Hong Kong Government's political persecution of spirited pro-democracy advocates.
A trio of young Hong Kong opposition activists — Joshua Wong, Agnes Chow and Ivan Lam – were sentenced on 2 December after pleading guilty to organising a demonstration last year as part of a larger protest against Hong Kong's receding autonomy. Their sentencing is the latest blow to the opposition movement, which seeks to preserve Hong Kong's limited autonomy from Beijing. These three activists were held without bail since pleading guilty in late November for organising and participating in the protest in 2019 that surrounded police headquarters. Wong, Chow and Lam, all in their 20s, are also founding members of the now-disbanded Demosisto opposition political party.
In a press statement issued here today, the IGP President Suresh Nautiyal said the use of courts to silence peaceful dissent is nothing but an instance of authoritarian regime.
"It looks that the Chinese government is afraid of free speech and free thinking of its own people, whose struggle for fundamental rights will stand as a testament to the human spirit," said the IGP leader.
Until 1997, Hong Kong was ruled by Britain as a colony but then returned to China. Under the "one country, two systems" arrangement, it has some autonomy, and its people more rights. In other words, Hong Kong has benefitted from a free and open system that celebrated the peaceful advocacy of citizens.
Mr Nautiyal said Hong Kong's people should be free to exercise the rights guaranteed to them under the Basic Law.
The Basic Law expires in 2047 and it is not clear what Hong Kong's status will then be.
The democracy protesters have been demanding (i) that the protests not to be characterised as a "riot", (ii) amnesty for arrested protesters, (iii) an independent inquiry into alleged police brutality, (iv) implementation of complete universal suffrage, and (v) withdrawal of the extradition bill. Of these, only the last demand related to the extradition bill has been met. The extradition bill which triggered the first protest would have allowed for criminal suspects to be extradited to mainland China under certain circumstances. Critics feared this would undermine judicial independence and endanger dissidents. The bill would also give China greater influence over Hong Kong and could be used to target activists and journalists.
Protesters still fear that the bill could be revived.
In view of the above, Mr Nautiyal said the IGP will endeavour to work with other Green parties around the world to restore the rights and freedoms of the people of Hong Kong and all those who suffer under the repressive rule.
The IGP leader also expressed his party's solidarity with the three young activists — Joshua Wong, Agnes Chow and Ivan Lam sentenced for doing good political work.
-Issued by the IGP Spokesperson (North) Rafat Jamal.
……………………………………………………………………………………………………………..
(India Greens Party is registered with the Election Commission of India under Section 29A of the Representation of the People Act, 1951. Registration Number: 56/476/2018-19/PPS-I, effective from 18/07/2019.)
Party HQ: 104, Vardhman Complex, 1st Floor, LSC, Savita Vihar, Delhi-110092.
Email: indiagreensparty@gmail.com Website: www.indiagreensparty.org