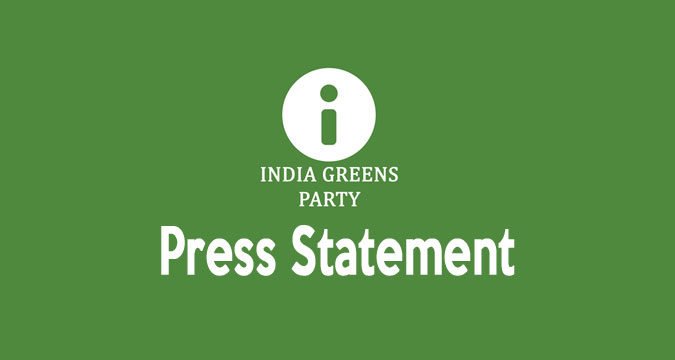 INDIA GREENS PARTY
Press Statement
IGP requests PM Modi to stop confrontationist attitude and listen to farmers
Unchir, Pauri-Garhwal, Uttarakhand, 29 November 2020: The India Greens Party (IGP) has requested Prime Minister Narendra Modi to stop the confrontationist attitude of denying the farmers and labourers an opportunity to be heard and demanded that sincere dialogue be immediately initiated with them.
In a press statement here today, IGP President Suresh Nautiyal said that the government must listen to the farmers and agricultural labourers who were ignored and whose concerns were not taken into account while framing the ordinances or passing them as Acts in Parliament.
"It is sad that the government did not listen to the farmers despite multiple communications sent to the Prime Minister Modi and his government. It is regrettable that the farmers are yet to receive a reply from the government on the issue," said Mr Nautiyal.
"It is the duty of the government to save farmers from a desperate situation and listen to them so that no untoward incident takes place in the escalating tension," the IGP President pointed out.
"It is very sad that there is a stand-off between our annadatas (food producers) and the government," the IGP leader regretted.
"In view of this, the IGP calls upon the Government of India to stop its confrontationist attitude of denying this vital and large section of society an opportunity to be heard," Mr Nautiyal added.
Farmers have been marching towards Delhi from different states of India, including Punjab, Haryana, Uttar Pradesh, Uttarakhand, Madhya Pradesh, etc, and are determined to get their concerns on the new farm bills heard.
These farmers faced multiple obstacles while reaching Delhi.
Mr Nautiyal said it is shameful that some of the state governments in collusion with the central government used every possible means to stop the farmers from reaching Delhi. Besides numerous barricades, barbed wire fences were used to stop them, and even deep trenches were dug.
"How can the governments do this with those who bring food to our plates," questioned the IGP President.
Despite blockades and hardships, thousands of farmers managed to reach the borders of the capital of the country.
"In view of the above, the IGP requests the central government to ensure that the farmers have free and safe passage into Delhi and allot them a suitable and convenient space where they can gather and hold talks with the government," Mr Nautiyal said, adding that the central government must invite all important platforms of the farmers for sincere discussion.
-Issued by the IGP Spokesperson (North) Rafat Jamal.
………………………………………………………………………………………………………………………………………………….
(India Greens Party is registered with the Election Commission of India under Section 29A of the Representation of the People Act, 1951. Registration Number: 56/476/2018-19/PPS-I, effective from 18/07/2019.)
Party HQ: 104, Vardhman Complex, 1st Floor, LSC, Savita Vihar, Delhi-110092.
Email: indiagreensparty@gmail.com Website: www.indiagreensparty.org