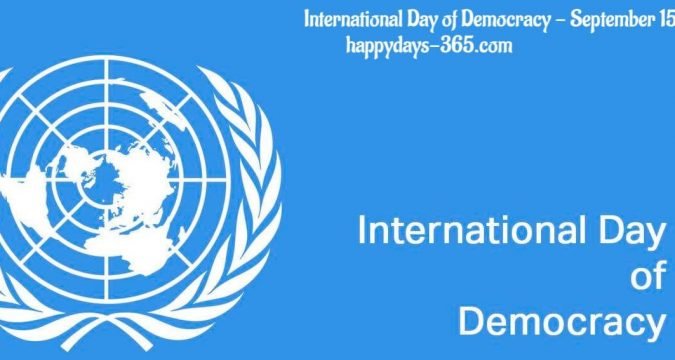 Press Statement
Democracy Day: IGP pitches for reclaiming Democracy and defending Diversity
Onchar, Pauri-Garhwal, UK, 15 September 2020: The India Greens Party (IGP) has said that the country urgently needed to reclaim Democracy and defend the Diversity as these were prerequisites to attain Participatory Democracy with Proportional Representation.
In a press statement issued on the occasion of the International Day of Democracy today, the India Greens Party President Suresh Nautiyal said Democracy is a universally recognised ideal and is one of the core values and principles of the United Nations and the Green Politics. Democracy provides an environment for the protection and effective realisation of human rights.
The Green leader said it is sad that several countries have taken measures to control the flow of information and have cracked down on freedom of expression and press freedom against an existing background of shrinking civic space.
Mr Nautiyal said the States must respect and protect, among other rights, freedom of expression and of the press, freedom of information, freedom of association and of assembly.
The IGP leader pointed out that developing media literacy and digital safety was more critical than ever.
"Also, it is important to fight misinformation, disinformation and hate speech, which have mushroomed in the crisis," he added.
The IGP President said it is critical to continue to uphold the rule of law, protect and respect international standards and basic principles of legality, and the right to access justice, remedies and due process particularly when the unprecedented COVID-19 crisis has resulted in major social, political and legal challenges globally.
Mr Nautiyal agreed with the UN Secretary General António Guterres who urged the world governments to be transparent, responsive and accountable in their COVID-19 response and ensure that any emergency measures were legal, proportionate, necessary and non-discriminatory.
The Green leader said it is sad the governments, on the pretext of addressing the COVID-19 crisis, are resorting to arrest, detention, prosecution or persecution of political opponents, journalists, doctors and healthcare workers, activists and others for allegedly spreading fake news.
He pointed out that highlighting the challenges of inequality and weak service delivery was urgently called for.
Mr Nautiyal said the International Day of Democracy provides an opportunity to review the state of Democracy in the world. Democracy is as much a process as a goal, and only with the full participation of and support by the international community, national governing bodies, civil society and individuals, can the ideal of democracy be made into a reality to be enjoyed by everyone, everywhere.
He affirmed that the values of freedom, respect for human rights and the principle of holding periodic and genuine elections by universal suffrage were essential elements of democracy.
-Press Statement issued by the IGP Spokesperson (North) Rafat Jamal.
………………………………………………………………………………………………………………………………………………….
(India Greens Party is registered with the Election Commission of India under Section 29A of the Representation of the People Act, 1951. Registration Number: 56/476/2018-19/PPS-I, effective from 18/07/2019.)
Party HQ: 104, Vardhman Complex, 1st Floor, LSC, Savita Vihar, Delhi-110092.
Email: indiagreensparty@gmail.com Website: www.indiagreensparty.org