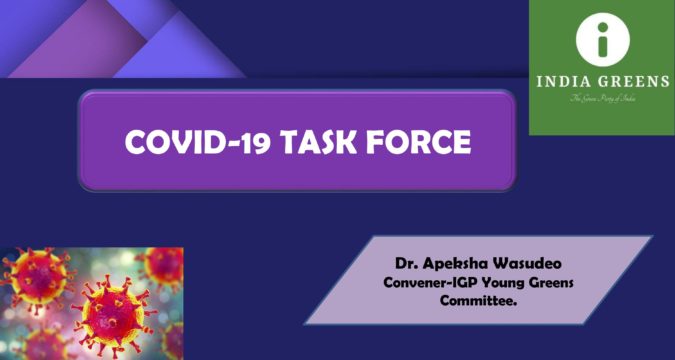 COVID-19 TASK FORCE
Dr.Apeksha Wasudeo
Convener-IGP Young Greens
Committee.
corona11_200331_apeksha_purpose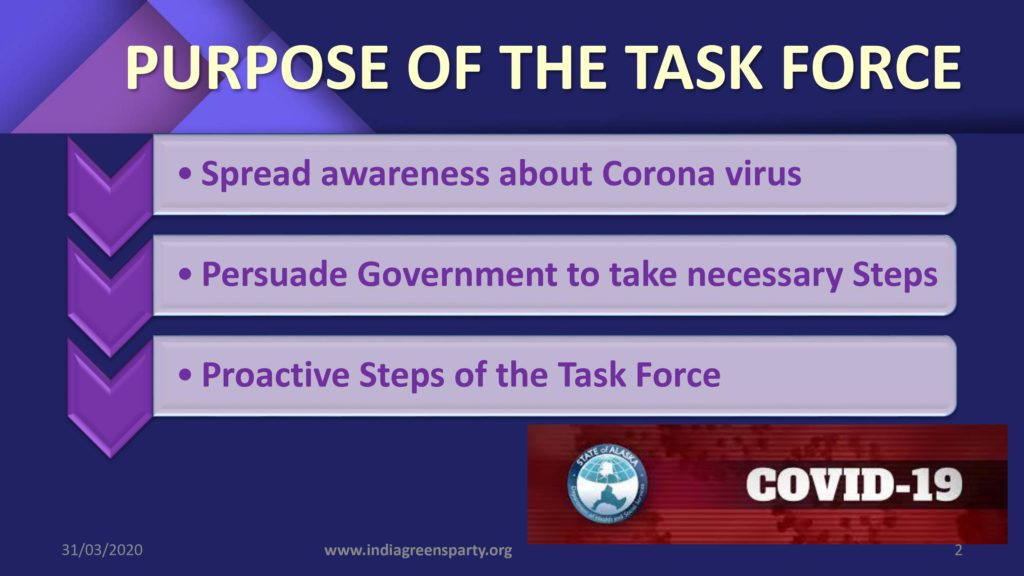 PURPOSE OF THE TASK FORCE
Spread awareness about Corona virus
Persuade Government to take necessary Steps
Proactive Steps of the Task Force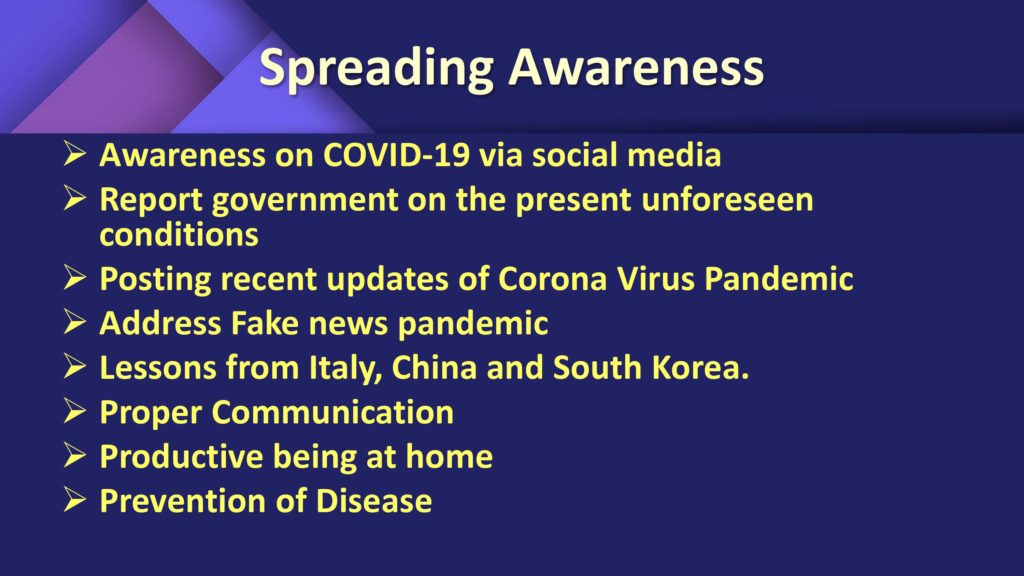 Spreading Awareness
Awareness on COVID-19 via social media
Report government on the present unforeseen conditions
Posting recent updates of Corona Virus Pandemic
Address Fake news pandemic
Lessons from Italy, China and South Korea.
Proper Communication
Productive being at home
Prevention of Disease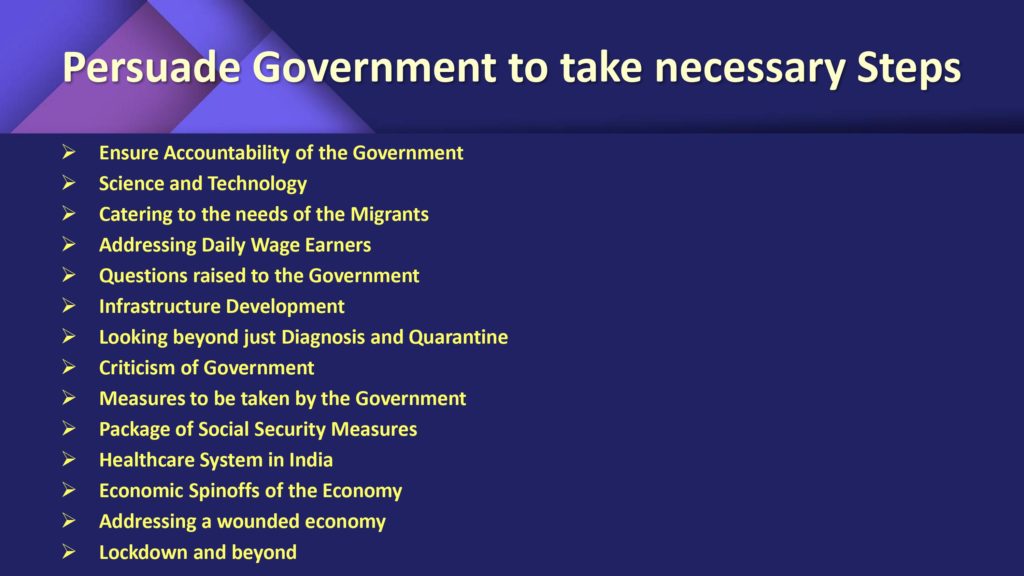 Persuade Government to take necessary Steps
Ensure Accountability of the Government
Science and Technology
Catering to the needs of the Migrants
Addressing Daily Wage Earners
Questions raised to the Government
Infrastructure Development
Looking beyond just Diagnosis and Quarantine
Criticism of Government
Measures to be taken by the Government
Package of Social Security Measures
Healthcare System in India
Economic Spinoffs of the Economy
Addressing a wounded economy
Lockdown and beyond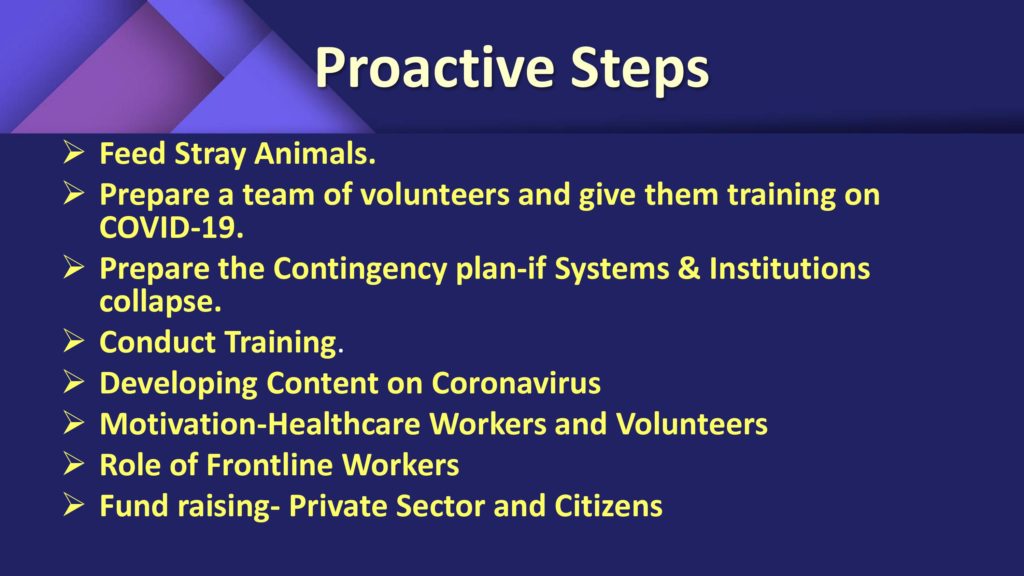 Proactive Steps
Feed Stray Animals.
Prepare a team of volunteers and give them training on COVID-19.
Prepare the Contingency plan-if Systems & Institutions collapse.
Conduct Training.
Developing Content on Coronavirus
Motivation-Healthcare Workers and Volunteers
Role of Frontline Workers
Fund raising-Private Sector and Citizens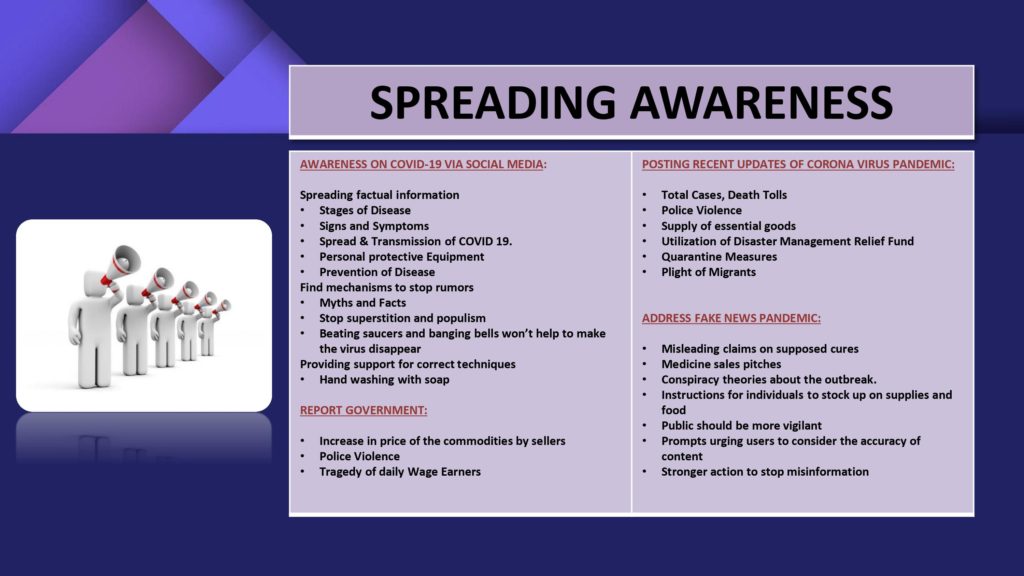 SPREADING AWARENESS
AWARENESS ON COVID-19 VIA SOCIAL MEDIA:
Spreading factual information
Stages of Disease
Signs and Symptoms
Spread & Transmission of COVID 19.
Personal protective Equipment
Prevention of Disease
Find mechanisms to stop rumors
Myths and Facts
Stop superstition and populism
Beating saucers andbangingbells won't help to make the virus disappear
Providing support for correct techniques
REPORT GOVERNMENT:
Increase in price of the commodities by sellers
Police Violence
Tragedy of daily Wage Earners
POSTING RECENT UPDATES OF CORONA VIRUS PANDEMIC:
Total Cases, Death Tolls
Police Violence
Supply of essential goods
Utilization of Disaster Management Relief Fund
Quarantine Measures
Plight of Migrants
ADDRESS FAKE NEWS PANDEMIC:
Misleading claims on supposed cures
Medicine sales pitches
Conspiracy theories about the outbreak.
Instructions for individuals to stock up on supplies and food
Public should be more vigilant
Prompts urging users to consider the accuracy of content
Stronger action to stop misinformation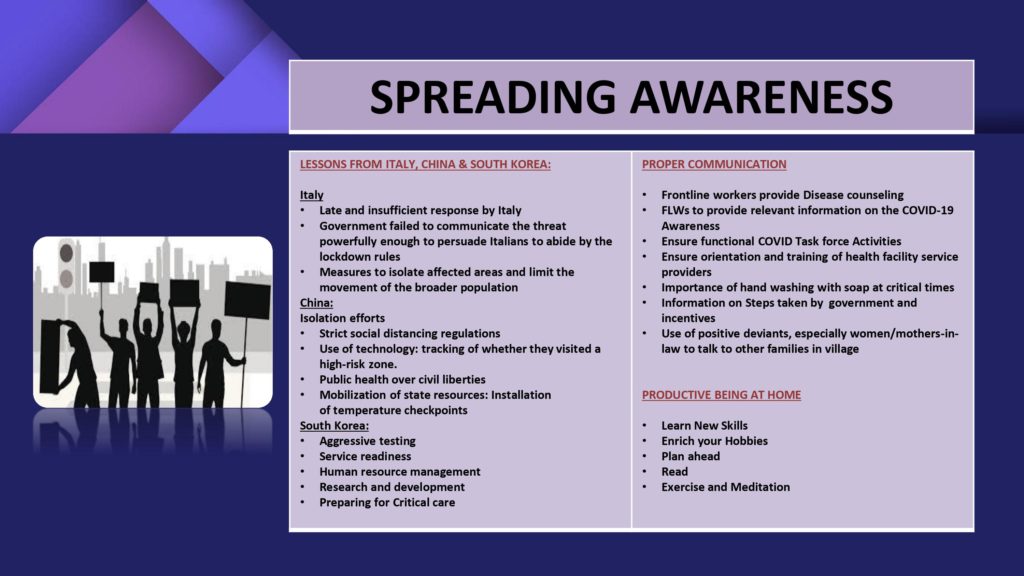 LESSONS FROM ITALY, CHINA & SOUTH KOREA:
Italy
Late and insufficient response by Italy
Government failed to communicate the threat
powerfully enough to persuade Italians to abide by the lockdown rules
Measures to isolate affected areas and limit the movement of the broader population
China:
Isolation efforts
Strict social distancing regulations
Use of technology: tracking of whether they visited a high-risk zone.
Public health over civil liberties
Mobilization of state resources: Installation of temperature checkpoints
SouthKorea:
Aggressive testing
Service readiness
Human resource management
Research and development
Preparing for Critical care
PROPER COMMUNICATION
Frontline workers provide Disease counseling
FLWs to provide relevant information on the COVID-19 Awareness
Ensure functional COVID Task force Activities
Ensure orientation and training of health facility service providers
Importance of hand washing with soap at critical times
Information on Steps taken by government and incentives
Use of positive deviants, especially women/mothers-in-law to talk to other families in village
PRODUCTIVE BEING AT HOME
Learn New Skills
Enrich your Hobbies
Planahead
Read
Exercise and Meditation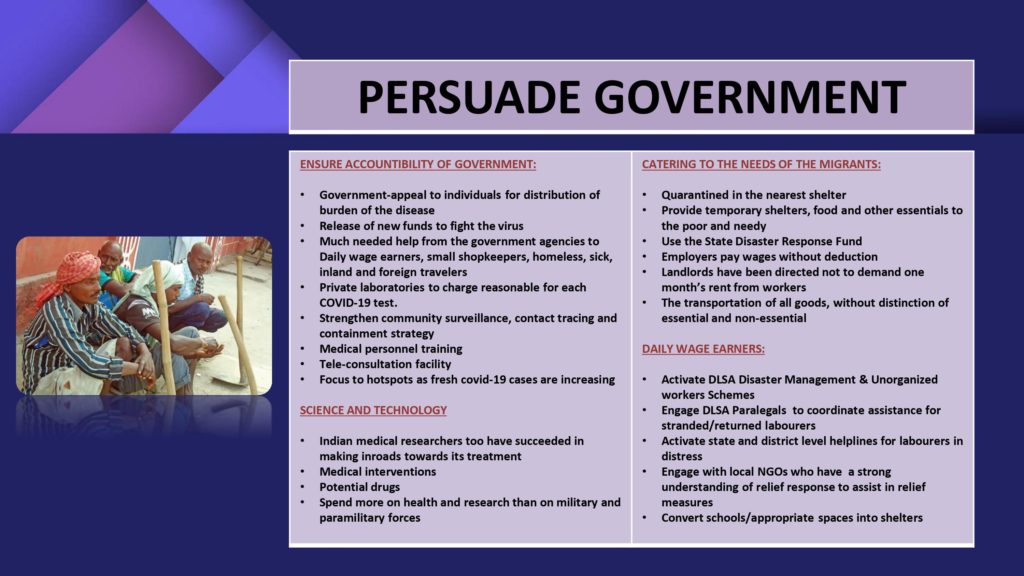 PERSUADE GOVERNMENT
ENSURE ACCOUNTABILITY OF GOVERNMENT:
Government-appeal to individuals for distribution of burden of the disease
Release of new funds to fight the virus
Much needed help from the government agencies to Daily wage earners, small shopkeepers, homeless, sick, inland and foreign travelers
Private laboratories to charge reasonable for each COVID-19 test.
Strengthen community surveillance, contact tracing and containment strategy
Medical personnel training
Tele-consultation facility
Focus to hotspots as fresh covid-19 cases are increasing
SCIENCE AND TECHNOLOGY
Indian medical researchers too have succeeded in making inroads towards its treatment
Medical interventions
Potential drugs
Spend more on health and research than on military and paramilitary forces
CATERING TO THE NEEDS OF THE MIGRANTS:
Quarantined in the nearest shelter
Provide temporary shelters, food and other essentials to the poor and needy
Use the State Disaster Response Fund
Employers pay wages without deduction
Landlords have been directed not to demand one month's rent from workers
The transportation of all goods,without distinction of essential and non-essential
DAILY WAGE EARNERS:
Activate DLSA Disaster Management & Unorganized workers Schemes
Engage DLSA Paralegals to coordinate assistance for stranded/returned labourers
Activate state and district level helplines for labourers in distress
Engage with local NGOs who have a strong understanding of relief response to assist in relief measures
Convert schools/appropriate spaces into shelters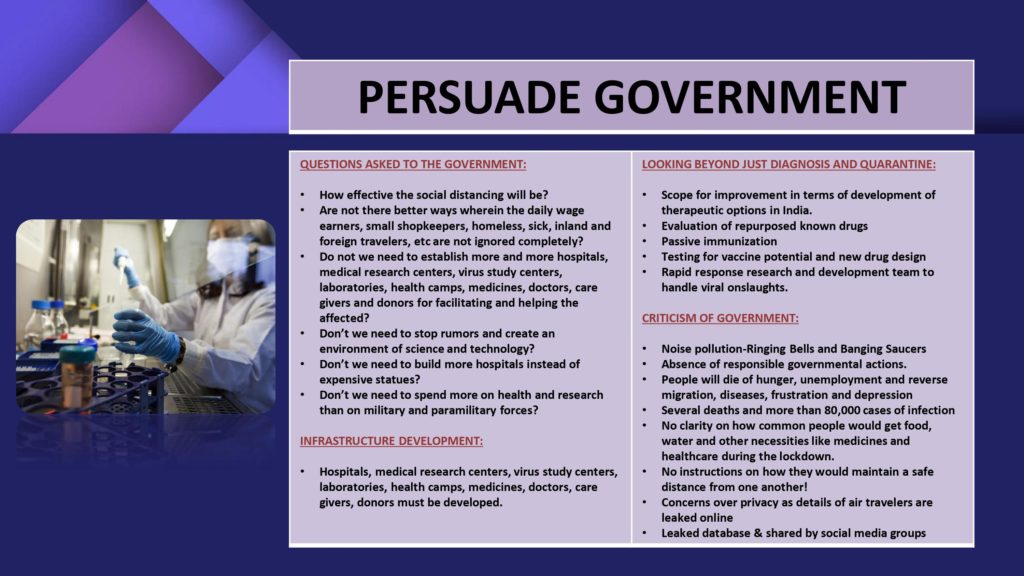 QUESTIONS ASKED TO THE GOVERNMENT:
How effective the social distancing will be?
Are not there better ways wherein the daily wage earners, small shopkeepers, homeless, sick, inland and foreign travelers, etcare not ignored completely?
Do not we need to establish more and more hospitals, medical research centers, virus study centers, laboratories, health camps, medicines, doctors, care givers and donors for facilitating and helping the affected?
Don't we need to stop rumors and create an environment of science and technology?
Don't we need to build more hospitals instead of expensive statues?
Don't we need to spend more on health and research than on military and paramilitary forces?
INFRASTRUCTURE DEVELOPMENT:
Hospitals, medical research centers, virus study centers, laboratories, health camps, medicines, doctors, care givers, donors must be developed.
LOOKING BEYOND JUST DIAGNOSIS AND QUARANTINE:
Scope for improvement in terms of development of therapeutic options in India.
Evaluation of repurposed known drugs
Passive immunization
Testing for vaccine potential and new drug design
Rapid response research and development team to handle viral onslaughts.
CRITICISM OF GOVERNMENT:
Noise pollution-Ringing Bells and Banging Saucers
Absence of responsible governmental actions.
People will die of hunger, unemployment and reverse migration, diseases, frustration and depression
Several deaths and more than 80,000 cases of infection
No clarity on how common people would get food, water and other necessities like medicines and healthcare during the lockdown.
No instructions on how they would maintain a safe distance from one another!
Concerns over privacy as details of air travelers are leaked online
Leaked database & shared by social media groups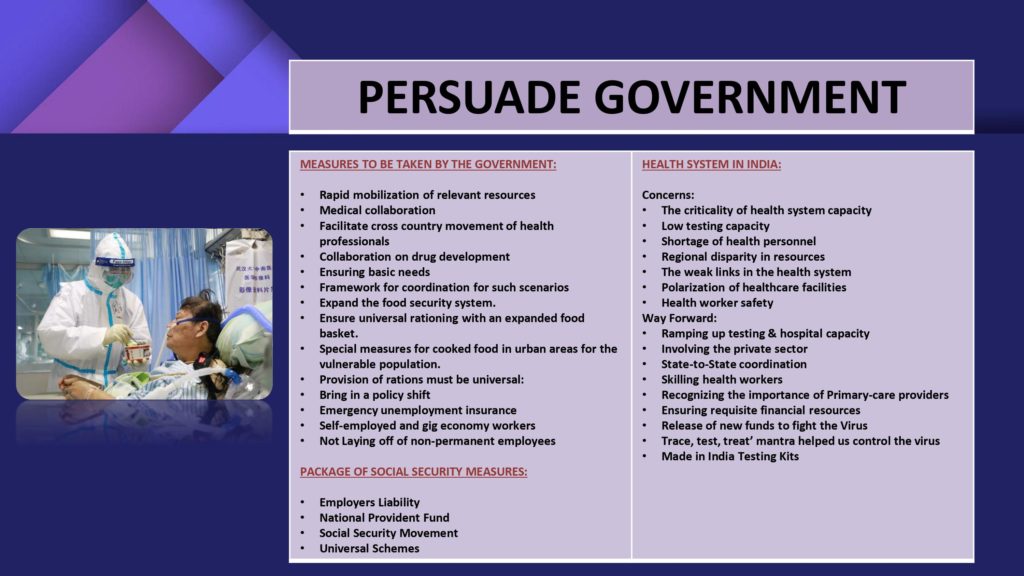 MEASURES TO BE TAKEN BY THE GOVERNMENT:
Rapid mobilization of relevant resources
Medical collaboration
Facilitate cross country movement of health professionals
Collaboration on drug development
Ensuring basic needs
Framework for coordination for such scenarios
Expand the food security system.
Ensure universal rationing with an expanded food basket.
Special measures for cooked food in urban areas for the vulnerable population.
Provision of rations must be universal:
Bring in a policy shift
Emergency unemployment insurance
Self-employed and gig economy workers
Not Laying off of non-permanent employees
PACKAGE OF SOCIAL SECURITY MEASURES:
Employers Liability
National Provident Fund
Social Security Movement
Universal Schemes
HEALTH SYSTEM IN INDIA:
Concerns:
The criticality of health system capacity
Low testing capacity
Shortage of health personnel
Regional disparity in resources
The weak links in the health system
Polarization of healthcare facilities
Health worker safety
WayForward:
Ramping up testing & hospital capacity
Involving the private sector
State-to-State coordination
Skilling health workers
Recognizing the importance of Primary-care providers
Ensuring requisite financial resources
Release of new funds to fight the Virus
Trace, test, treat' mantra helped us control the virus
Made in India Testing Kits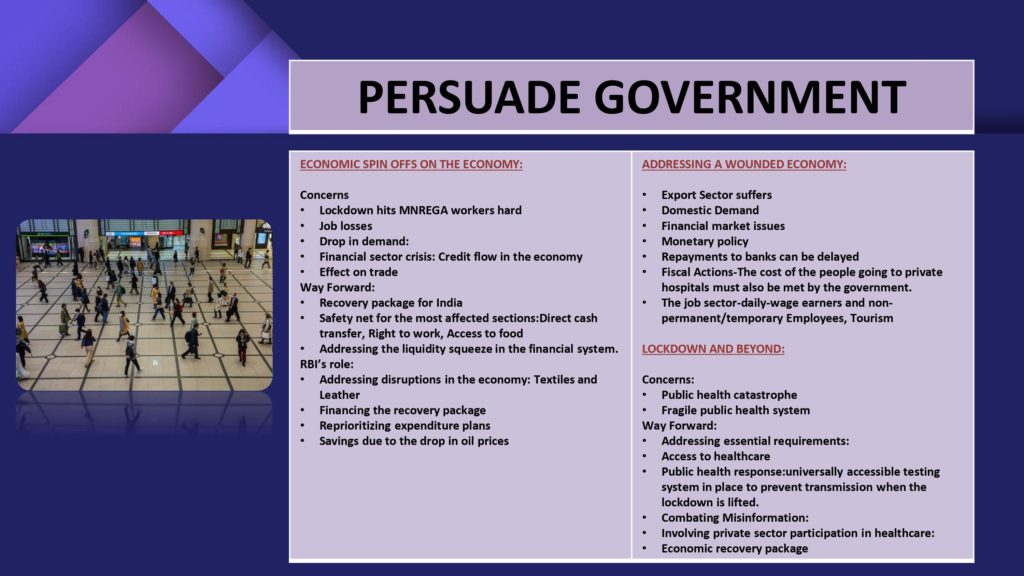 ECONOMIC SPIN OFFS ON THE ECONOMY:
Concerns
Lockdown hits MNREGA workers hard
Job losses
Drop in demand:
Financial sector crisis: Credit flow in the economy
Effect on trade
Way Forward:
Recovery package for India
Safety net for the most affected sections:Direct cash transfer, Right to work, Access to food
Addressing the liquidity squeeze in the financial system.
RBI's role:
Addressing disruptions in the economy: Textiles and Leather
Financing the recovery package
Reprioritizing expenditure plans
Savings due to the drop in oil prices
ADDRESSING A WOUNDED ECONOMY:
Export Sector suffers
Domestic Demand
Financial market issues
Monetary policy
Repayments to banks can be delayed
Fiscal Actions-The cost of the people going to private hospitals must also be met by the government.
The job sector-daily-wage earners and non-permanent/temporary Employees, Tourism
LOCKDOWN AND BEYOND:
Concerns:
Public health catastrophe
Fragile public health system
Way Forward:
Addressing essential requirements:
Access to healthcare
Public health response:universally accessible testing system in place to prevent transmission when the lockdown is lifted.
Combating Misinformation:
Involving private sector participation in healthcare:
Economic recovery package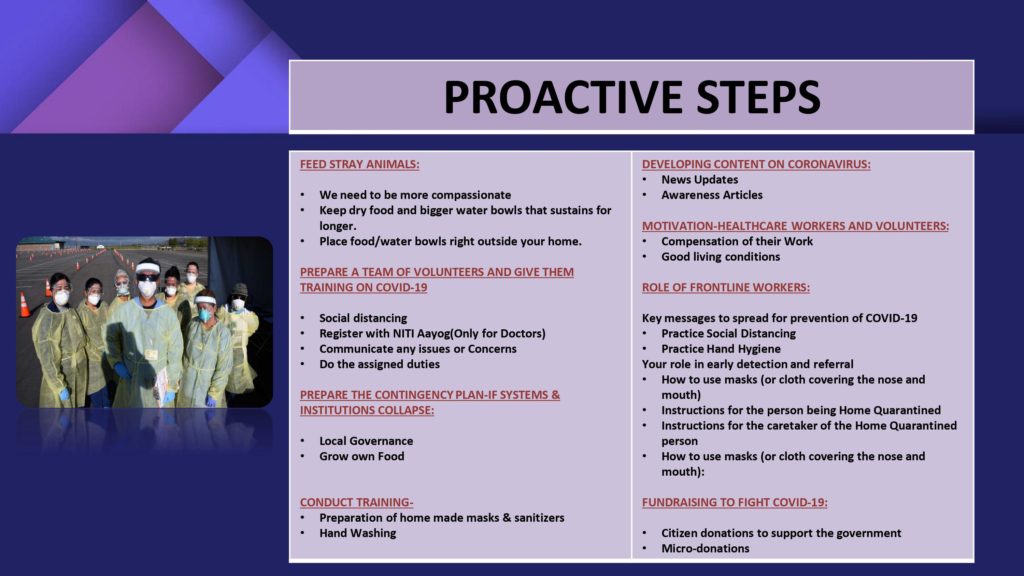 PROACTIVE STEPS
FEED STRAY ANIMALS:
We need to be more compassionate
Keep dry food and bigger water bowls that sustains for longer.
Place food/water bowls right outside your home.
PREPARE A TEAM OF VOLUNTEERS AND GIVE THEM TRAINING ON COVID-19
Social distancing
Register with NITI Aayog(Only for Doctors)
Communicate any issues or Concerns
Do the assigned duties
PREPARE THE CONTINGENCY PLAN-IF SYSTEMS & INSTITUTIONS COLLAPSE:
Local Governance
Grow own Food
CONDUCT TRAINING-
Preparation of home made masks & sanitizers
Hand Washing
DEVELOPING CONTENT ON CORONAVIRUS:
News Updates
Awareness Articles
MOTIVATION-HEALTHCARE WORKERS AND VOLUNTEERS:
Compensation of their Work
Good living conditions
ROLE OF FRONTLINE WORKERS:
Key messages to spread for prevention of COVID-19
Practice Social Distancing
Practice Hand Hygiene
Your role in early detection and referral
How to use masks (or cloth covering the nose and mouth)
Instructions for the person being Home Quarantined
Instructions for the caretaker of the Home Quarantined person
How to use masks (or cloth covering the nose and mouth):
FUNDRAISING TO FIGHT COVID-19:
Citizen donations to support the government
Micro-donations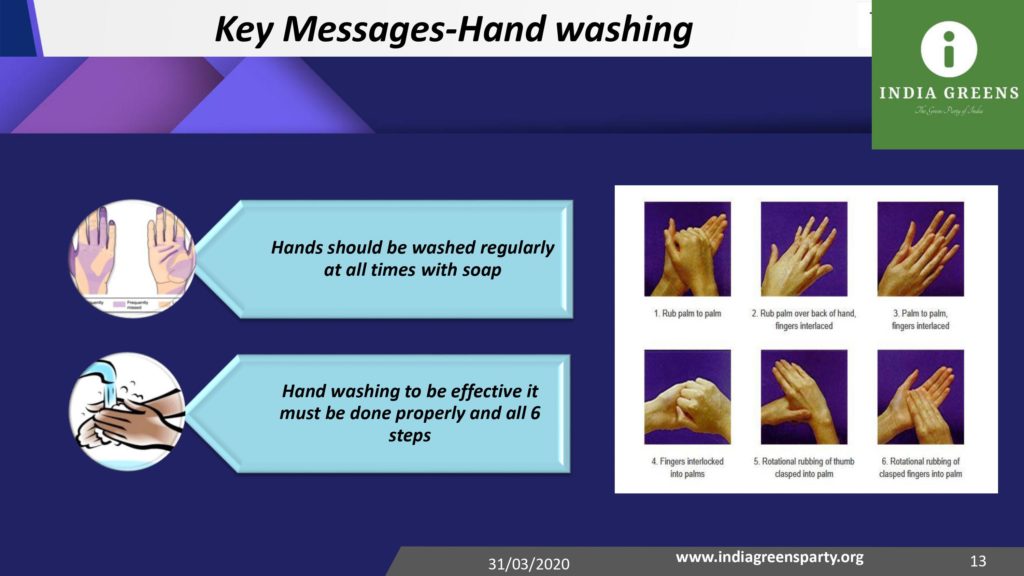 Key Messages-Hand washing
Hands should be washed regularly at all times with soap
Hand washing to be effective it must be done properly and all 6 steps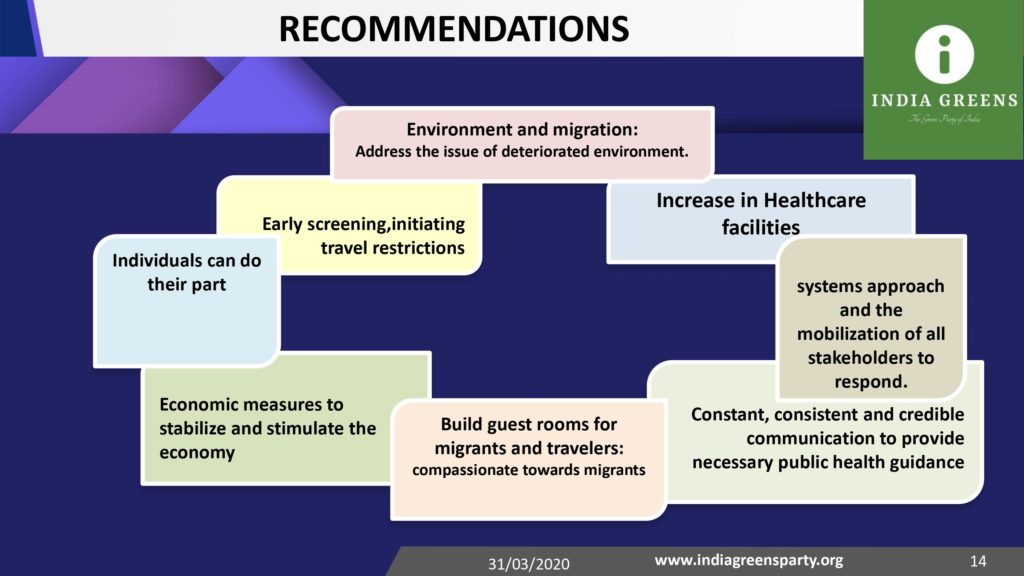 RECOMMENDATIONS
Environment and migration: Address the issue of deteriorated environment.
Early screening, initiating travel restrictions
Increase in Healthcare facilities
Individuals can do their part
systems approach and the mobilization of all stakeholders to respond.
Economic measures to stabilize and stimulate the economy
Build guest rooms for migrants and travelers: compassionate towards migrants
Constant, consistent and credible communication to provide necessary public health guidance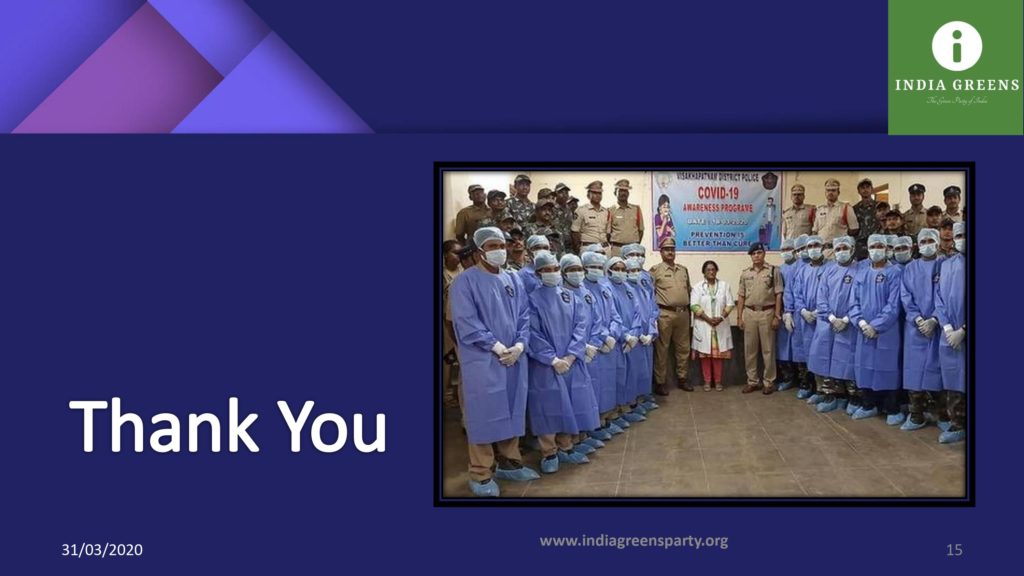 Thank You