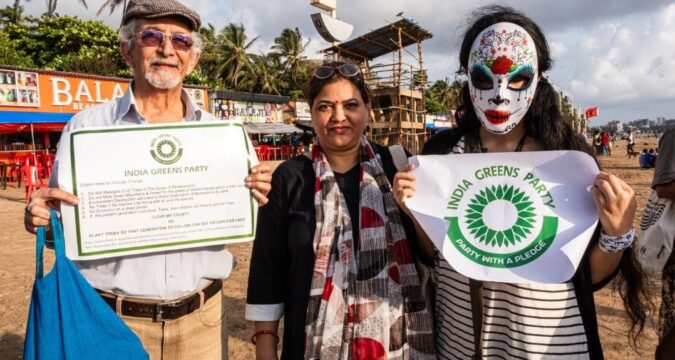 INDIA GREENS PARTY
Issued at iGP NHO at Greendham Anandi-Chait, Unchir-Dunktok, Pauri Garhwal, Uttarakhand on 15 September 2023.
Press Release
The India Greens Party (iGP) today participated in a rally organised by the Fridays For Future Mumbai (FFFM) at Juhu Beach in Mumbai, and vowed to do its best to save lives on the Earth.
iGP's National Vice-Presidents Rusi Burjor Nariman and Ishpriya Kaur, and the iGP Women's Network's National Co-Convener Sarika Dabral were among those prominent people who took part in the FFF rally in Mumbai today.
The rally was organised by the FFFM on International Day of Democracy to discuss role of democracy in environment. The issues that were pondered over included: a. Are decisions that affect people in Mumbai, regarding different aspects including transport, health, housing, sanitation and environment being taken democratically and in people's interest? b. How can we strengthen democracy to ensure a protected environment and to solve Mumbai's problems? c. How can we bring unity and co-ordination between people of different age groups, areas, communities, professions and classes, to work towards improving governance?
The purpose also included a discussion over to find ways to spread awareness about the importance of conservation of environment and of the role of democracy in it.
The iGP leaders reiterated their commitment to spread awareness about the six Green principles: Ecological wisdom, sustainability, social justice, nonviolence, participatory democracy, and respect for diversity.
Besides, the India Greens Party leaders said the International Day of Democracy provides an opportunity to review the state of Democracy in the world. Democracy is as much a process as a goal, and only with the full participation of and support by the international community, national governing bodies, civil society and individuals, can the ideal of democracy be made into a reality to be enjoyed by everyone, everywhere. They affirmed that the values of freedom, respect for human rights and the principle of holding periodic and genuine elections by universal suffrage were essential elements of democracy.
There is also an understanding of working with the FFF Mumbai in close association in the near future. The FFF Mumbai is an independent, autonomous and voluntary organisation working for the good of all life-forms on the Earth.
–Issued by the iGP Chief Spokesperson Suresh Nautiyal.
————————————————
(India Greens Party is registered with the Election Commission of India under Section 29A of the Representation of the People Act, 1951. Registration Number: 56/476/2018-19/PPS-I, effective from 18/07/2019.)
National Head Office: GreenDham AnandiChait, IndraBalbhadra Parisar, Unchir-Dunktok, SH-31, PO-Ghurdauri, Distt-Pauri Garhwal, Uttarakhand, INDIA. PIN-246194.
Email: contact@indiagreensparty.org Website: https://indiagreensparty.org