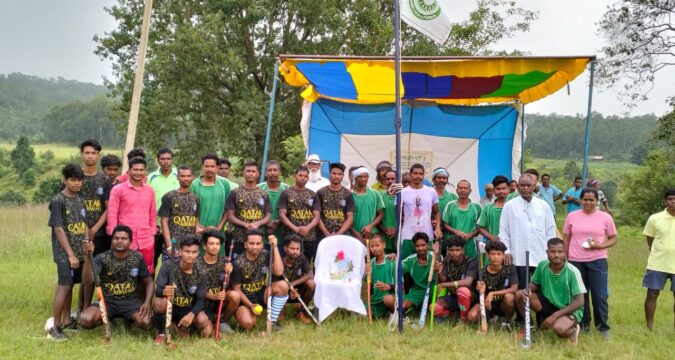 INDIA GREENS PARTY
Issued at iGP NHO at Greendham Anandi-Chait, Unchir-Dunktok, Pauri Garhwal, Uttarakhand on 29 August 2023.
Press Release
The Sports Promotion Committee of the India Greens Party (iGP) today celebrated the National Sports Day in a unique manner, by organising a friendly hockey tournament in the memory of hockey wizard Dhyan Chand.
The nation celebrates Major Dhyan Chand's birth anniversary, 29 August, as the National Sports Day.
The tournament was organised at a picturesque village, Bahora (Sanna), in Jashpur district of Chhattisgarh state. Jashpur district is considered a nursery of hockey sport.
The programme began with the hoisting of the India Greens Party's flag by the Co-President of the party, Rajendra Minz. He also happens to be the Convener of the Sports Promotion Committee.
The picture of hockey wizard Major Dhyan Chand was garlanded by Reverend Albert Ekka, the chief guest.
Before the tournament began, Mr Suresh Nautiyal, Founder of the party, addressed online the gathering. He said the spirit of playing a game was more important than winning or losing the game. Also, he said the state of Chhattisgarh has contributed so much to the hockey sport in the country.
Village headmen also addressed the gathering.
Four hockey teams took part in the tournament. The players displayed their natural talent and entertained the public. A few national level hockey players were also present on the occasion.
–Issued by the iGP Chief Spokesperson Suresh Nautiyal.
————————————————
(India Greens Party is registered with the Election Commission of India under Section 29A of the Representation of the People Act, 1951. Registration Number: 56/476/2018-19/PPS-I, effective from 18/07/2019.)
National Head Office: GreenDham AnandiChait, IndraBalbhadra Parisar, Unchir-Dunktok, SH-31, PO-Ghurdauri, Distt-Pauri Garhwal, Uttarakhand, INDIA. PIN-246194.
Email: contact@indiagreensparty.org Website: https://indiagreensparty.org