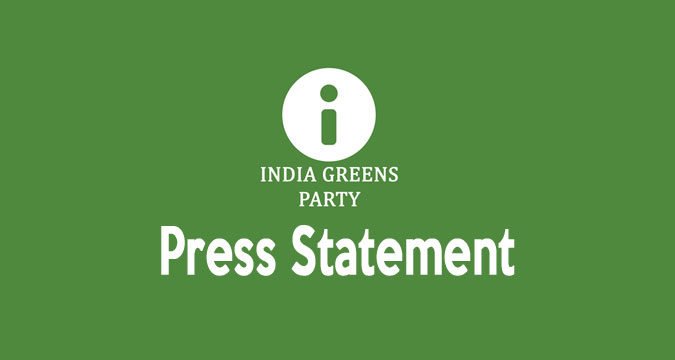 INDIA GREENS PARTY
Press Statement
Unchir-Dunktok, Pauri Garhwal, Uttarakhand, 10 December 2021: The India Greens Party (iGP) today regretted that most of the world governments have not done much to implement the UDHR in letter and spirit.
In a press statement issued here on the occasion of the World Human Rights Day today, the iGP Chief Spokesperson Suresh Nautiyal expressed disappointment over non-implementation of the Universal Declaration of Human Rights (UDHR) in letter and spirit even after 72 years of its existence.
"It is regrettable that the world governments have not done much to implement the UDHR in letter and spirit," he pointed out.
"Today is the World Human Rights Day! We have been celebrating the Day since 1948 when on 10 December the United Nations General Assembly adopted the UDHR, which is considered as a milestone document that proclaims the inalienable rights which everyone is entitled to as a human being — regardless of race, colour, religion, sex, language, political or other opinion, national or social origin, property, birth or other status. Regrettably, we, the human beings, have not been able to translate the spirit of this document into a reality even after 72 years," the iGP leader expressed his concern.
This Day is an opportunity to reaffirm the importance of human rights in re-building the world we want, and the need for global solidarity as well as our interconnectedness and shared humanity.
On this occasion, the IGP also remembered the women who played key roles in shaping the UDHR including Hansa Mehta and Lakshmi Menon from India.
–Issued by Chief Spokesperson, iGP.
………………………………………………………………………………
(India Greens Party is registered with the Election Commission of India under Section 29A of the Representation of the People Act, 1951. Registration Number: 56/476/2018-19/PPS-I, effective from 18/07/2019.)
Registered Office: 104, Vardhman Complex, 1st Floor, LSC, Savita Vihar, Delhi-110092.
National Head Office: GreenDhamAnandiChait, IndraBalbhadraParisar, Unchir-Dunktok, PO-Ghurdauri, Patty-Idwalsyun, Distt-Pauri Garhwal, Uttarakhand, INDIA. PIN-246194.
Email: indiagreensparty@gmail.com Website: https://indiagreensparty.org